With the trend of creating functional and stylish outdoor living spaces, covered outdoor living spaces have become increasingly popular.
They offer both protection from the elements and a place to relax or entertain guests.
Whether you're looking to add a patio or an entire outdoor room, a modern covered outdoor living space can bring your backyard dreams to life.
A well-designed outdoor retreat can create the perfect spot for entertaining, relaxing, enjoying meals, or simply spending time with family and friends in comfort.
Outdoor Living Spaces
Modern covered outdoor living spaces are the perfect way to bring life and beauty to any home.
They are also a great way to increase the value of your home.
With modern covered outdoor living spaces, homeowners can create a space that is both inviting and stylish.
Covered living areas are ideal for entertaining guests or simply relaxing in the comfort of your own backyard.
The addition of a covered outdoor living space brings functionality and style to your home's exterior.
Whether you opt for an open-air design or one with walls, many materials can be used to customize it according to your needs.
Popular options include wood, vinyl, stone, composite decking, aluminum, or even glass walls for added privacy.
The possibilities are endless when it comes to creating a modern covered outdoor living space that reflects your personal taste and style.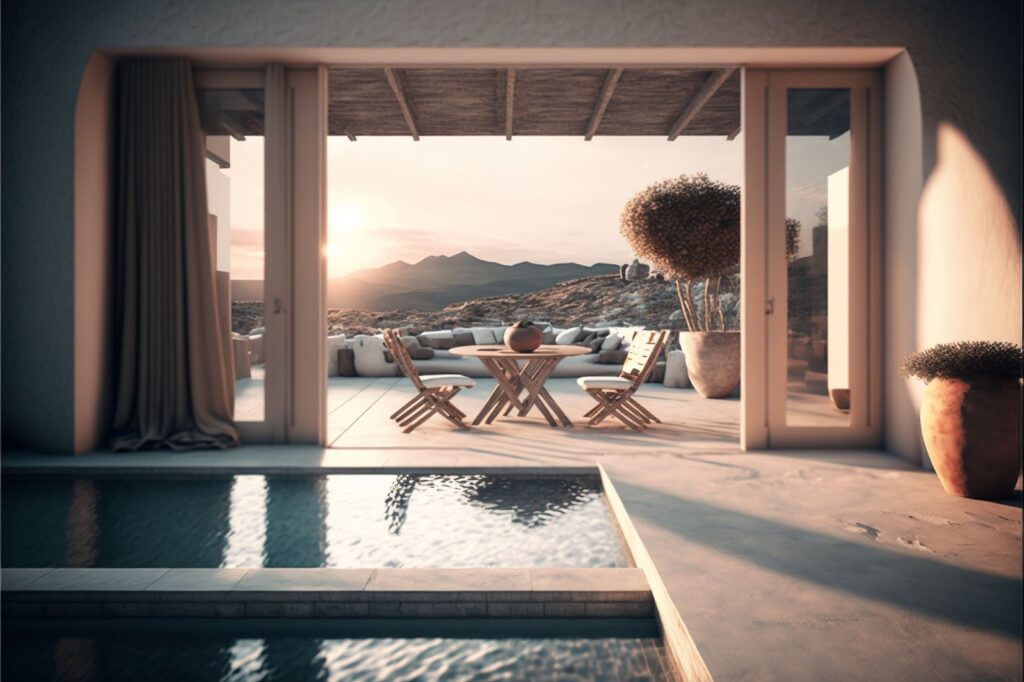 A Look at 7 Spaces
Adding a covered space can provide you with an extended living area and make your property more attractive.
Here, we take a look at 7 unique spaces that make the most of outdoor living while protecting you from the elements.
1. Urban Balcony
Modern urban living increasingly means less outdoor space.
However, the savvy city dweller or suburbanite can easily maximize their available square footage by creating a modern covered balcony.
Perfect for the small urban apartment, an outdoor balcony can provide much needed space to relax and enjoy the outdoors in privacy.
A modern balcony adds style, luxury and comfort to an otherwise limited outdoor space.
This is especially the case if your balcony is covered.
With plenty of options for materials and design, it's easy to create a unique look that fits any urban landscape.
Whether it be a simple canopy or fully enclosed structure with windows and doors, there are many ways to customize the aesthetic of this modern oasis.
Incorporating furniture pieces such as benches, lounge chairs or tables will allow one to entertain friends while still feeling connected with nature.
Finally, adding plants or potted flowers will add a touch of green into this delightful addition to any city home.
If you're curious, yes, a balcony (covered or uncovered) can also be a great addition to a home.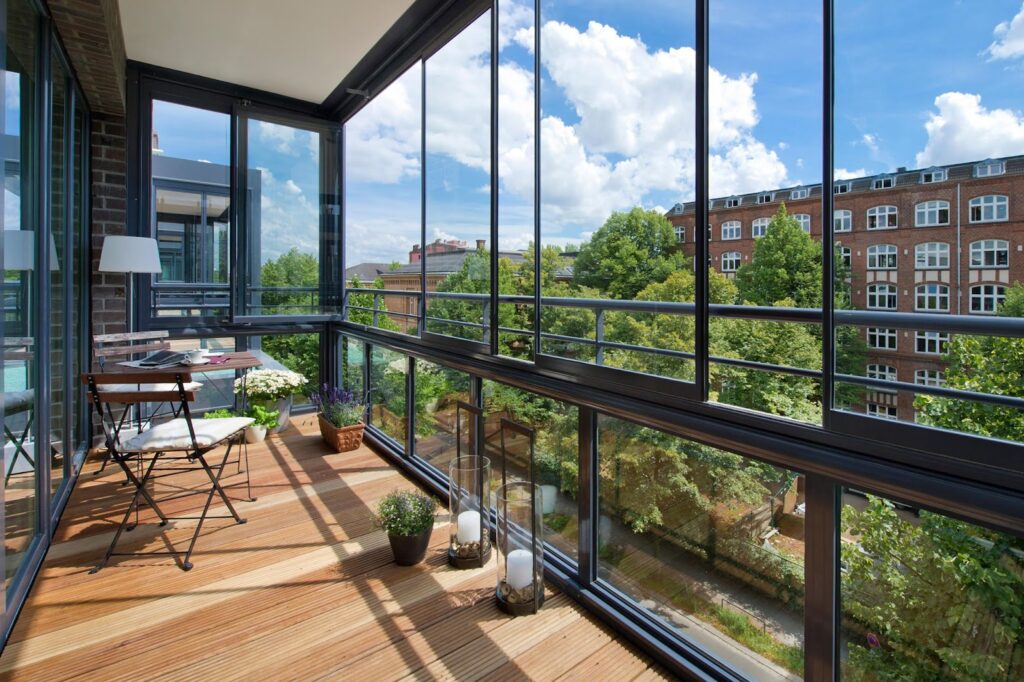 2. Coastal Patio
A coastal patio offers an exciting twist on outdoor living.
Homeowners looking to add a covered outdoor living space that exudes luxury and style should consider the traditional design of a coastal patio.
Featuring stunning ocean views and often unique designs, such patios allow homeowners to create an inviting atmosphere for gatherings or simply enjoying the outdoors in comfort.
The perfect place for entertaining with friends or family, a coastal patio is designed to bring the indoors out.
With high quality materials like cedar shakes, stone cladding, and composite decking that are weather resistant and low maintenance—these patios provide beauty and function to any home's exterior.
From swinging benches to cozy fire pits, homeowners can customize their space however they desire while still maintaining an elegant aesthetic.
Obviously, this option is limited to those who have property on the coast of a large body of water or river.
However, the same sort of patio can also be great for those who live in some other wide open space like the mountains or plains.
A patio can even be great if you live in a densely wooded area.
The most important thing to keep in mind is that the purpose of a patio is to give you a sense of space and to create a meeting place between the indoors and the outdoors.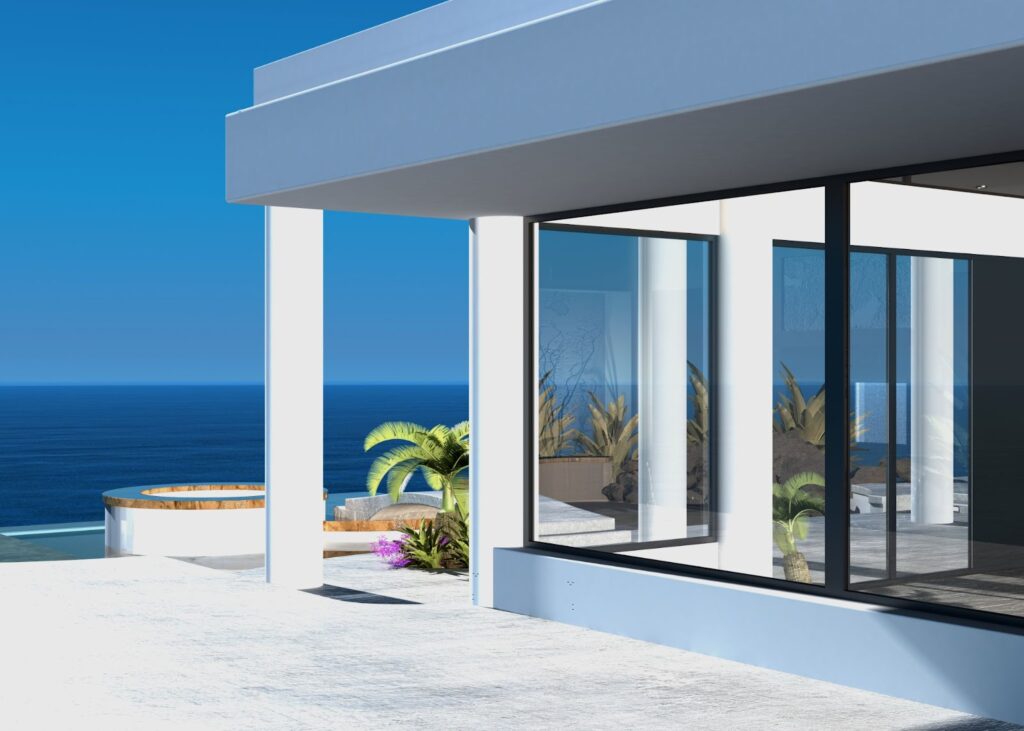 3. Country Veranda
This modern covered outdoor living space will provide you with the best of both worlds – a stylish entertainment area that is also affordable and functional.
Whether you're looking for an outdoor kitchen, a patio, or just a place to relax in the sun, a veranda has it all!
A country veranda provides all the luxuries of an open-air patio with complete weather protection from rain, wind and harsh sunlight.
You can also add things like adjustable shade panels to give you complete control over your desired amount of shade or light exposure while protecting your furniture from UV rays.
For extra, you can even include retractable screens to provide additional privacy when needed without blocking out views or breezes.
The options for customization are many.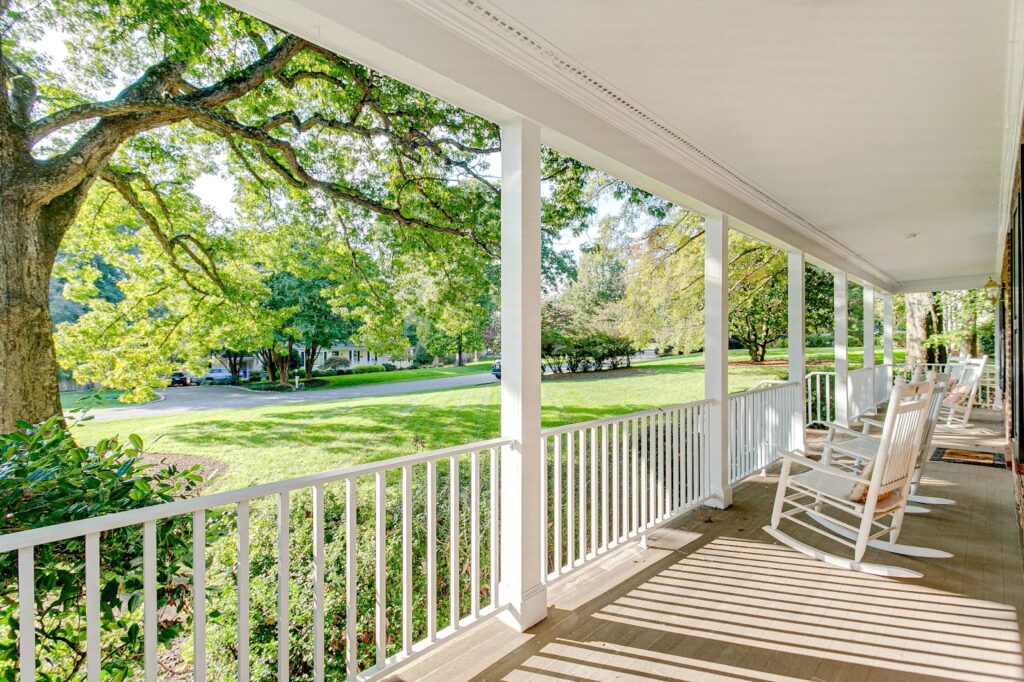 4. Rustic Terrace
Bring a modern yet rustic feel to your outdoor space with the addition of a terrace.
A terrace is the perfect way to extend your indoor living space outside while creating an inviting atmosphere and increased functionality of your home.
When designing a terrace, there are many options available to ensure it is tailored to meet the needs and desires of each homeowner.
For instance, you can choose from various materials such as wood, stone, brick, or pavers for a rustic look that will last for years.
To add even more character to your modern covered outdoor living space, consider incorporating natural elements like vines and shrubs into your design.
Doing this adds texture and life to the area while allowing you to create an environment that's unique to you.
Additionally, adding comfortable furniture pieces like lounge chairs or couches provides seating for when entertaining family and friends outdoors.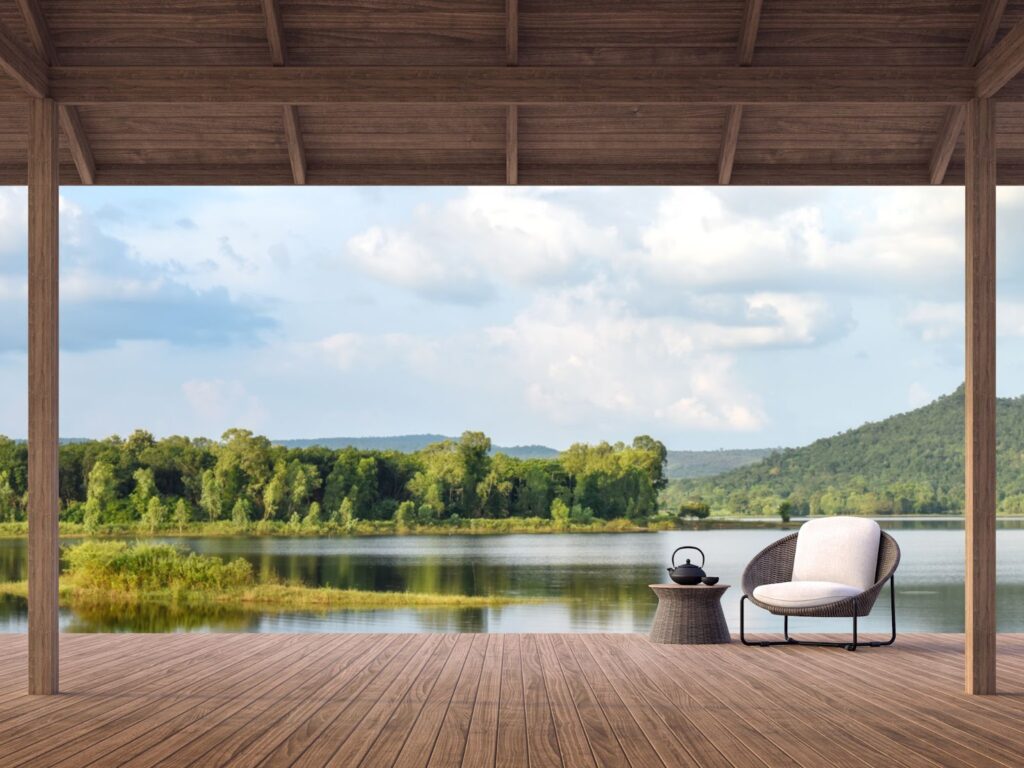 5. Lanai
The Lanai is a modern twist on the traditional outdoor living space.
This covered outdoor space provides not only protection from the elements, but also an inviting atmosphere for entertaining and relaxing in style.
With its clean lines and contemporary design, it can be tailored to fit any home's aesthetic and provide a location to enjoy with family and friends year-round.
The use of light stonework can add texture while keeping the area airy, yet still private.
The solid roofing also ensures that no matter what type of weather rolls in, you'll remain comfortable indoors or out.
A built-in kitchenette can allow you to cook meals outdoors for special occasions or just for fun!
The options are endless with this unique covered outdoor living space – perfect for catching up on some reading, hosting a pool party or enjoying your morning coffee al fresco!
If you really want to go all out, you can even add a pool.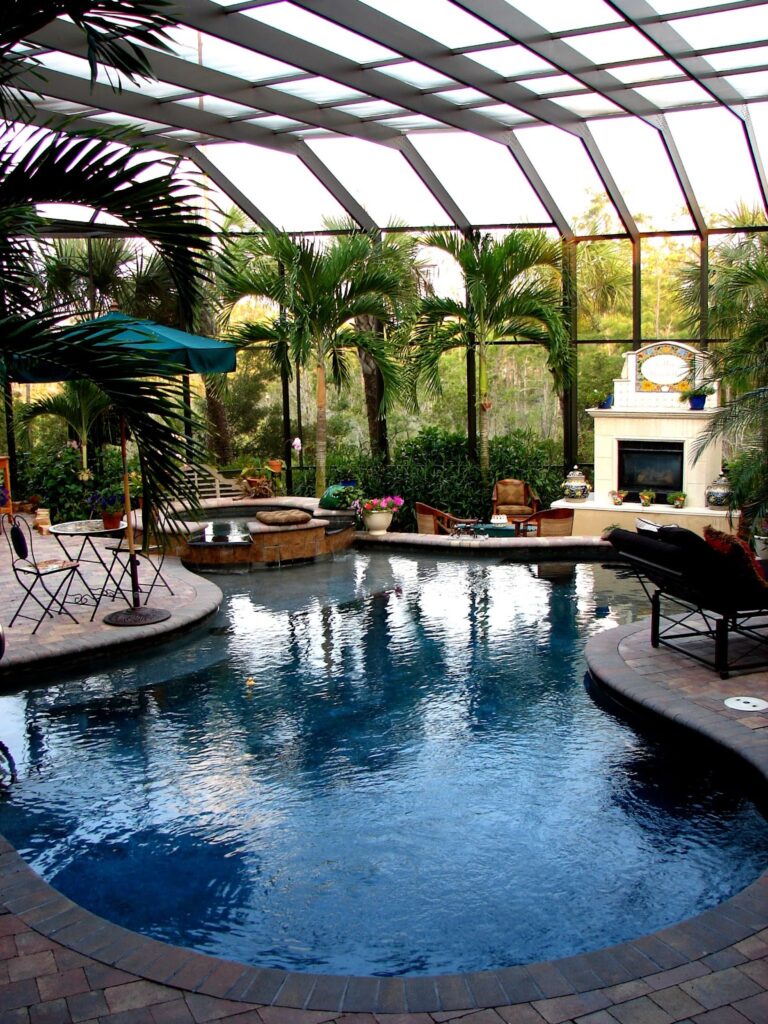 Let Us Help with Your Outdoor Living Project
A Deck Above is the area's premier builder of decks and a wide variety of structures to maximize your enjoyment of outdoor living. 
6. Eclectic Deck
Creating a modern covered outdoor living space doesn't have to be daunting.
An eclectic deck is the perfect way to achieve your design vision while still maintaining a stylish and comfortable space.
An eclectic deck allows you to mix different materials, colors, textures and patterns – all while keeping a cohesive look that fits with the rest of your home's décor.
With an eclectic deck, homeowners can incorporate wood planks, metal railings and stone accents for a truly unique outdoor experience.
To create a modern vibe, consider adding sleek furniture pieces along with bright accessories such as colorful throw pillows or art prints for an added touch of personality.
Additionally, consider incorporating plants or other natural elements into the design for an organic feel that will bring life to your new outdoor oasis.
And don't forget to take care of your deck properly.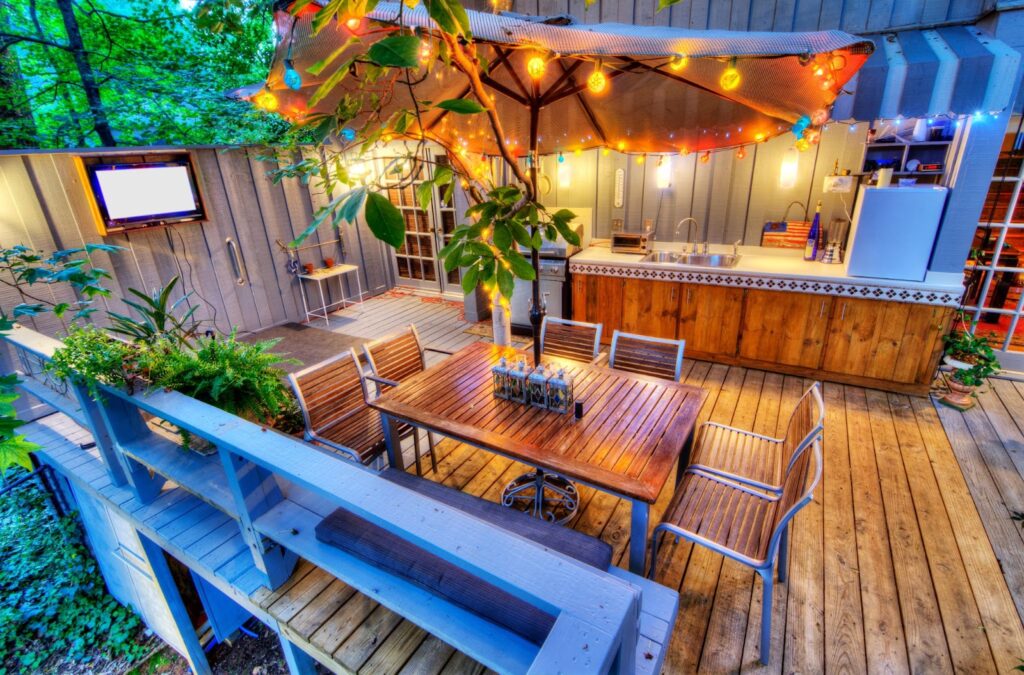 7. Contemporary Courtyard
The contemporary courtyard is an increasingly popular way to create modern covered outdoor living spaces.
Refined and stylish, courtyards are great for creating a seamless transition between indoor and outdoor living while providing protection from the elements.
Combining both form and function, these unique structures can be tailored to fit any size garden or patio.
Courtyards come in many different styles and designs, ranging from traditional to ultra-modern.
Whether you prefer open air concepts featuring large windows and glass doors or more intimate designs with solid walls and roofs, there is something out there for everyone.
They are also highly customizable with various materials such as wood, brick or stone available for construction.
With the ability to incorporate potted plants, furniture pieces and decorative elements into the design of your courtyard; you can truly create a one-of-a-kind outdoor space.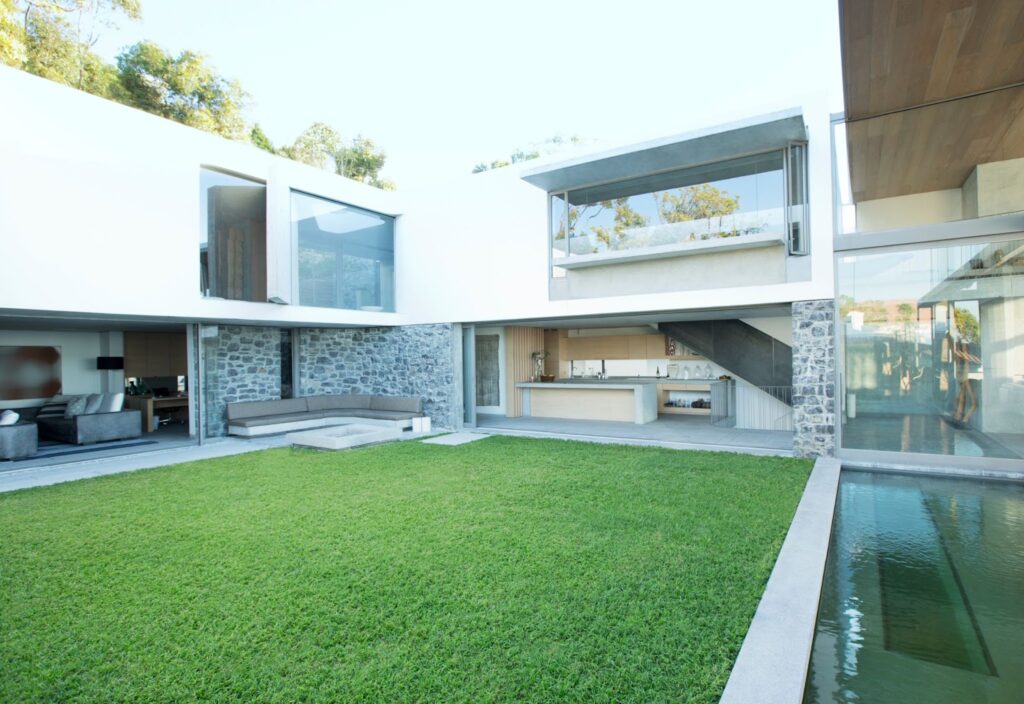 Advantages of Outdoor Living
Modern covered outdoor living spaces are becoming increasingly popular in homes as homeowners look for ways to enjoy their outside space all year round.
Homeowners want a comfortable, livable area that supports their lifestyle and allows them to take advantage of the outdoors even on rainy days.
Covered outdoor living spaces provide homeowners with numerous advantages.
The cover protects against inclement weather such as rain, snow, and extreme heat or cold making it possible to use the space all year long regardless of the temperature or forecast.
This type of structure also provides an additional layer of privacy allowing you to relax without worrying about nosy neighbors or passersby while still being able to enjoy natural light during daytime hours.
In addition, modern covered outdoor living spaces add value and aesthetic appeal to your home while providing a great place for entertaining guests and family members alike.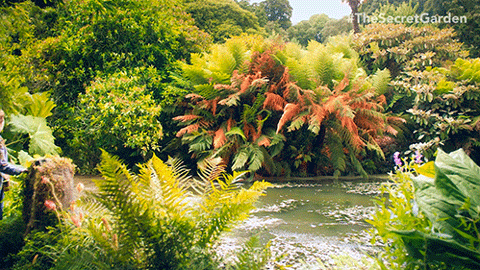 Conclusion
Modern outdoor living spaces are not only beautiful but also incredibly functional.
With a covered space, you can protect furniture and appliances from sun and rain and create the perfect environment for relaxation.
Depending on your budget, there are plenty of options to choose from that will meet your lifestyle needs.
From built-in bars to fire pits, you can create a modern outdoor paradise that combines luxury with comfort.