You can turn the most simple outdoor space into a luxurious extension of your home with the addition of a screen enclosure. A deck with screened porch has various benefits that allow you to enjoy your deck in any type of weather.
Once you have a screened porch, the livability of your space increases drastically. They're a great compromise between indoors and outdoors, and you'll find yourself spending more time here than anywhere else in the house.
Read on for the benefits of a deck with screened porch, how installing a screen room will expand the use of your patio or deck, and the steps you need to take before you begin your project.
Inspiration for Screened In Porch and Deck Designs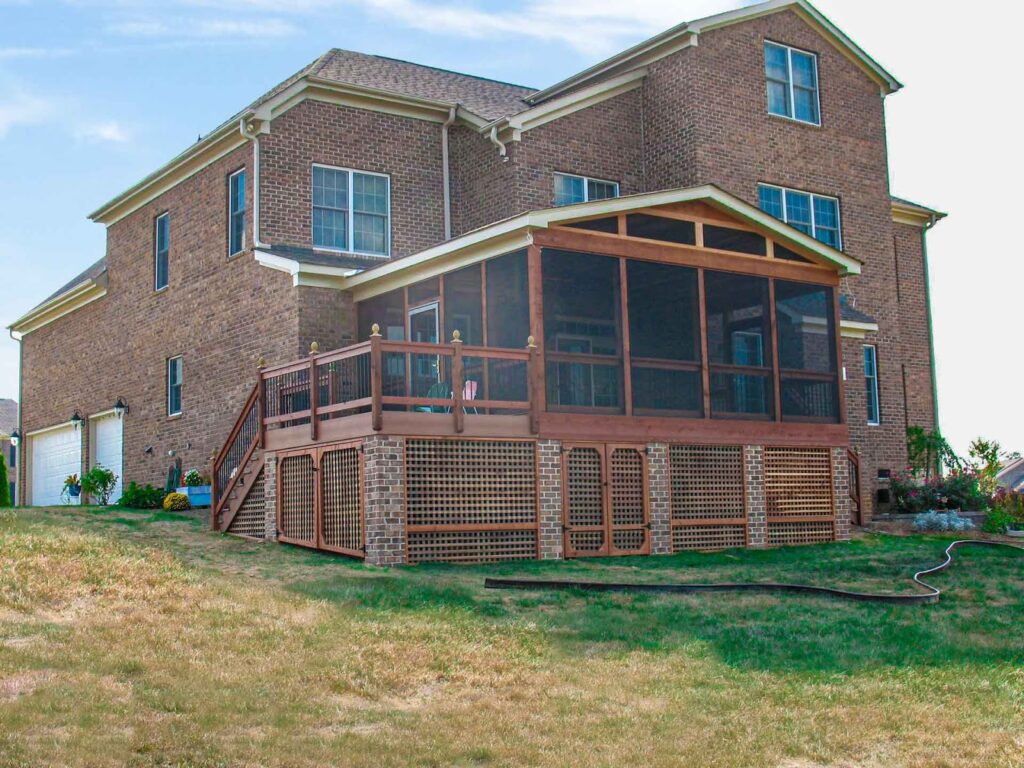 Step outside onto your screen porch for a morning cup of coffee and look out into the world while you plan your day.
For a beautiful space hang long, airy curtains from floor to ceiling, add a modern outdoor rug, comfortable furniture and inviting warm lighting (insert "deck lighting ideas" link here from last month's blog). Voila – the best hang out in the house. Especially after adding amenities such as an outdoor kitchen with space for drinks or a television with surround sound speakers.
View our gallery of completed decks and porches for screened-in deck ideas and inspiration.
---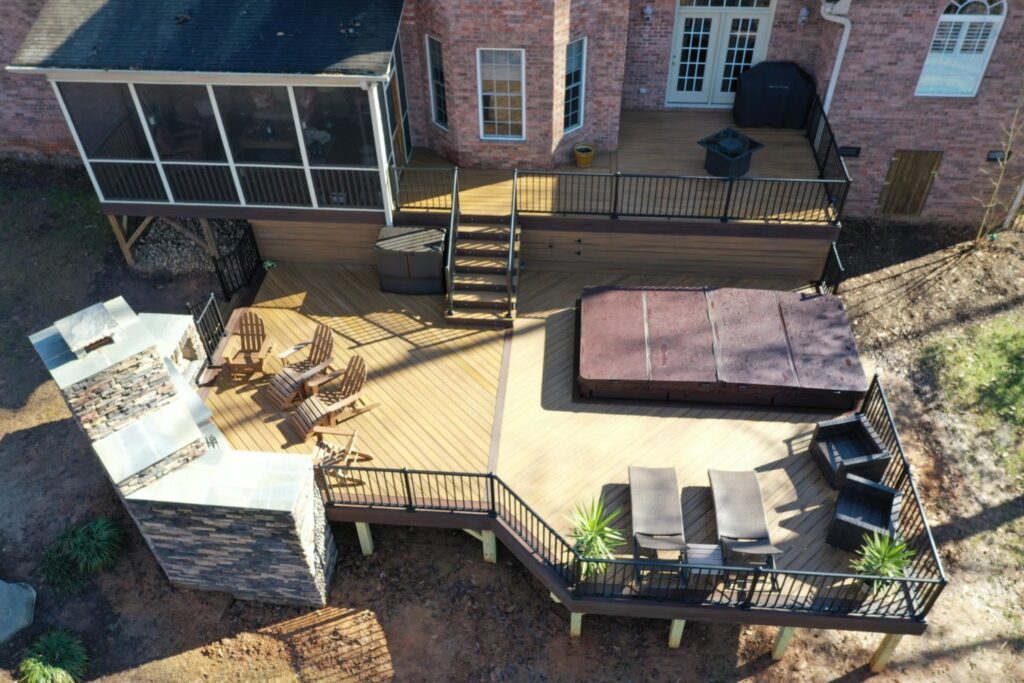 Work-from-home at your patio table instead of sitting inside your home office. A covered deck with screened porch will shield your device from the sun's glare. The best part is that you're within range of the wifi, but still enjoying fresh air and an ever-changing view of nature.
A traditional fireplace in your screen porch will quickly become more loved than the fire pit in your yard, as you avoid the worst parts of building a fire like the wind blowing smoke in everyone's faces.
We love a propane or gas burning fireplace for safety and aesthetics. They're easy to use and long lasting and have no embers to burn holes in your beautiful deck or furniture.
---
Main Benefits of Screened Porches
Do you need some reasons to love screen porches before committing to an expensive addition?
Additional Living Space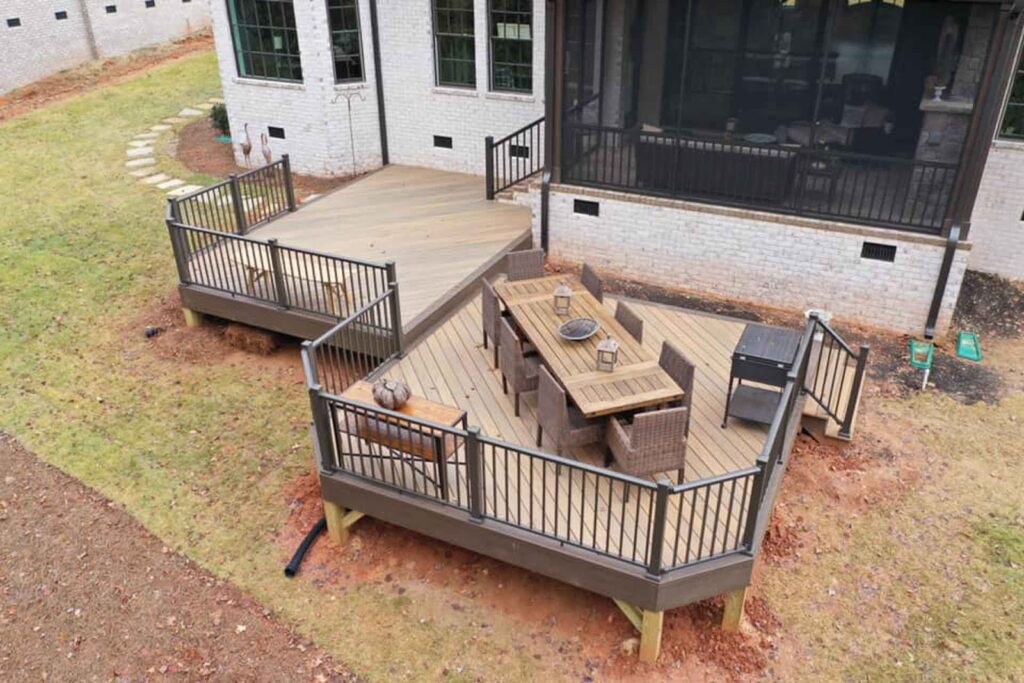 The main advantage of a deck with screened porch is increasing your livable space. However, because it's not insulated, heated and cooled, a screen porch doesn't meet requirements to become additional square footage for your home.
Protection from the elements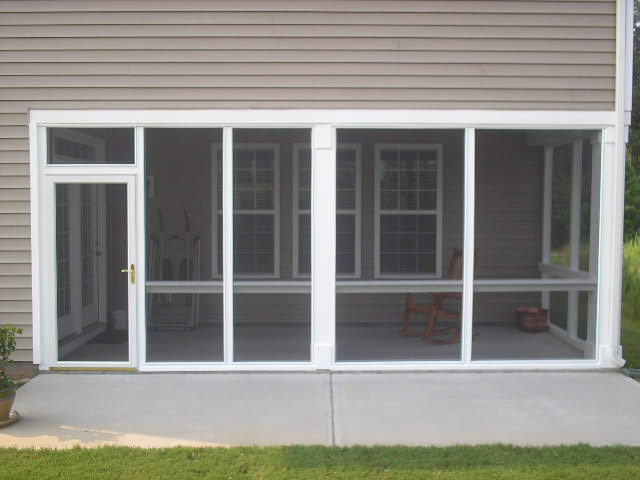 The majority of people with a screened in porch enjoy it daily during the summer months. In hot climates, most people have ceiling fans and large screen windows, for maximum ventilation. If you are looking for year round use in colder climates, you will need to consider a more insulated four season porch.
Whether you decide on a deck, screened porch, or four season porch will depend a lot on your budget, what type of climate you live in, and what use you'd like to get out of the space.
Protection from pests and insects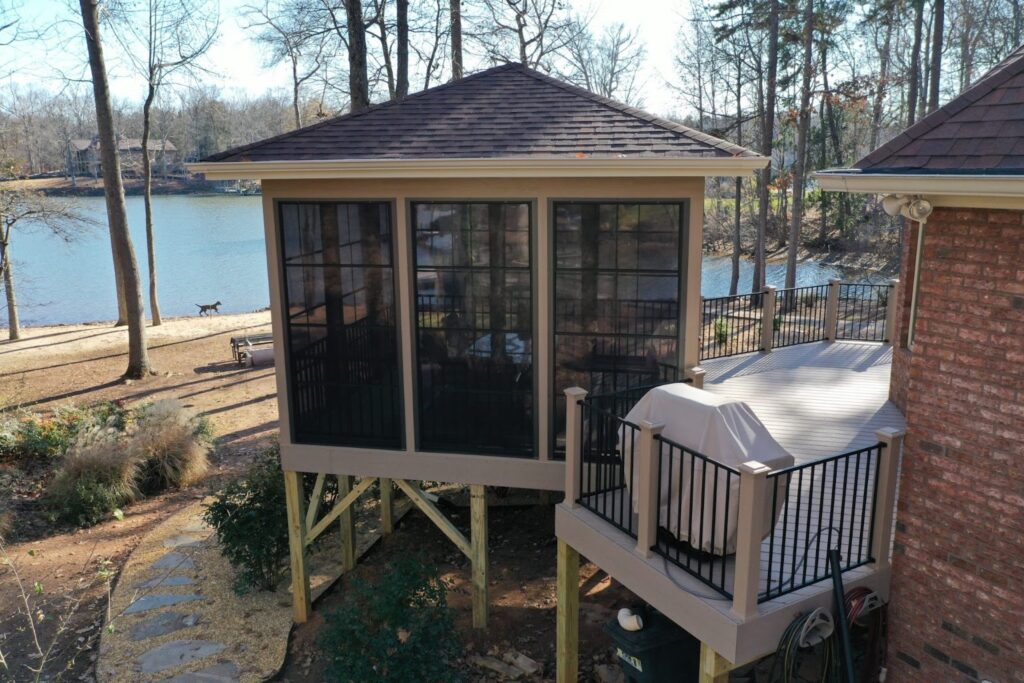 Because nothing ruins an outdoor meal faster than wasps.
Increased curb appeal of your home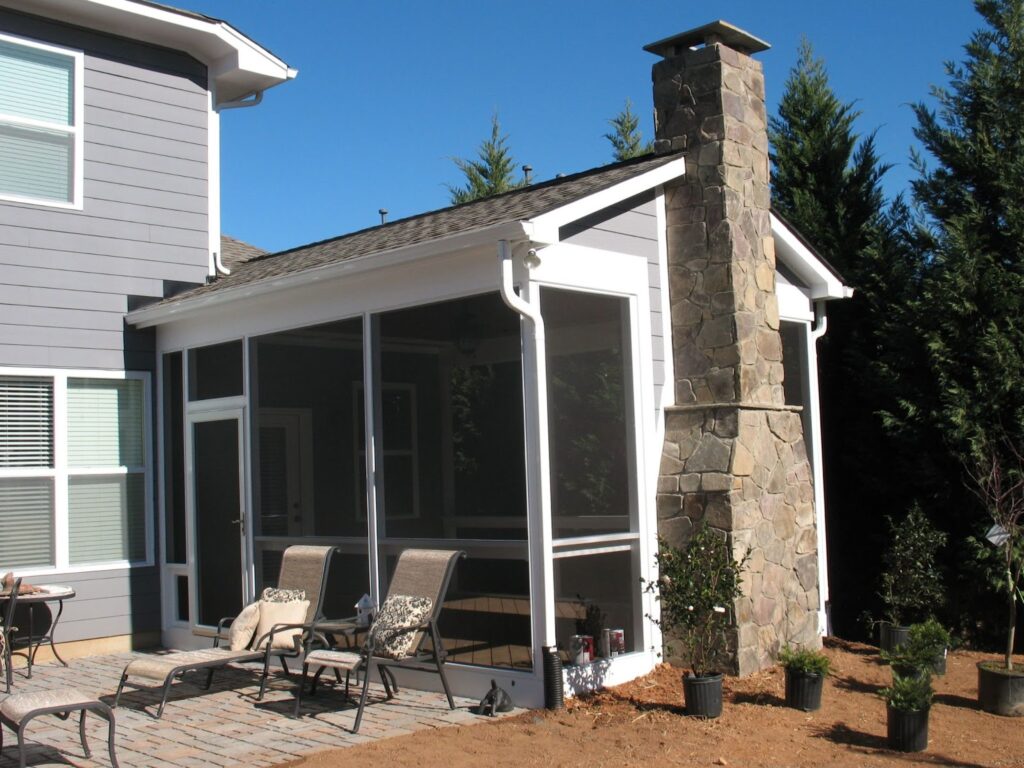 As mentioned in a previous section, a deck with a screened porch doesn't add additional square footage to your home when listing it for sale, but it will increase the curb appeal.
Increase the value of your home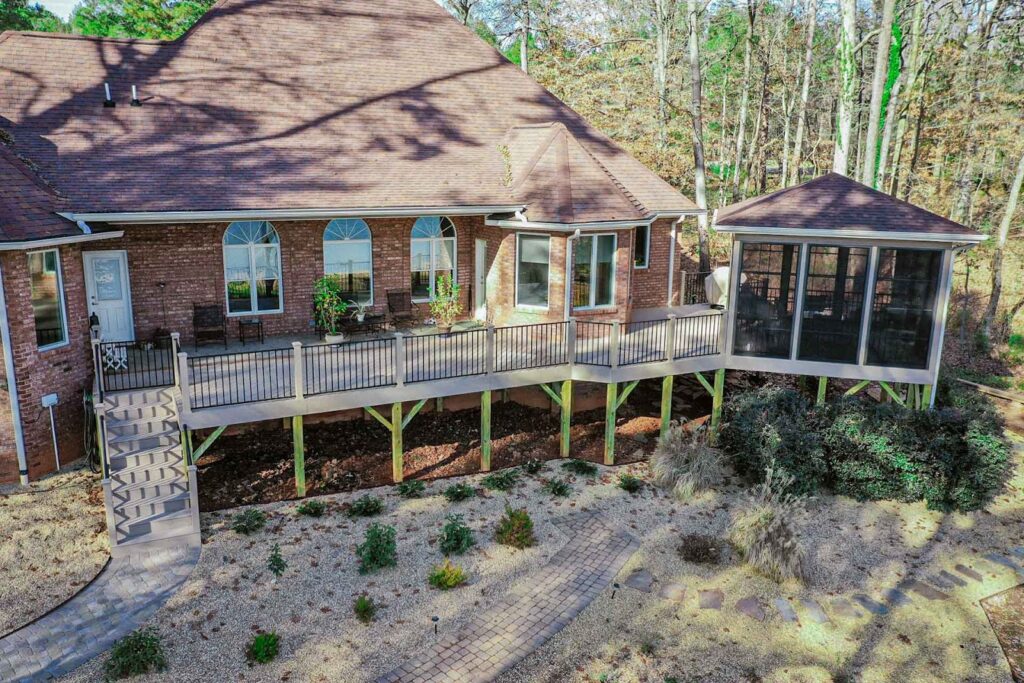 Buyers love a screened porch. It adds a touch of luxury they can envision themselves indulging in. The money you invest in a quality porch will come back to you, should you decide to put your home on the market. On average you'll see a 70% return on investment.
Extend your dining & entertaining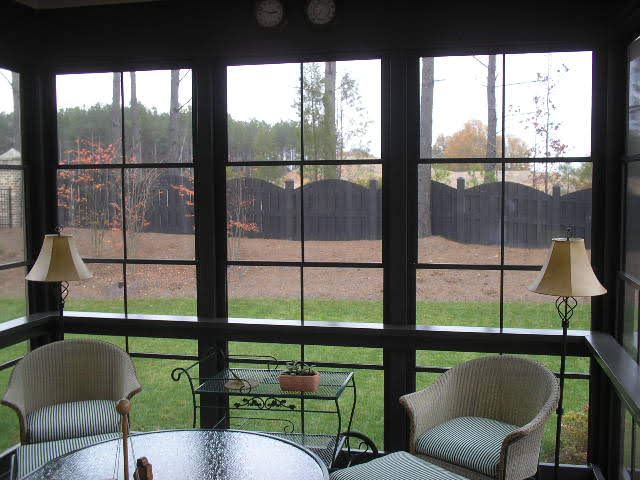 For those who enjoy hosting, a deck with screened porch offers great, extra space to host larger groups of friends and family. You can plan your get-togethers in advance without having to worry about the weather. When the night rolls around, the screens let you enjoy an outdoor space without having to deal with bugs.
---
Plan for your screen porch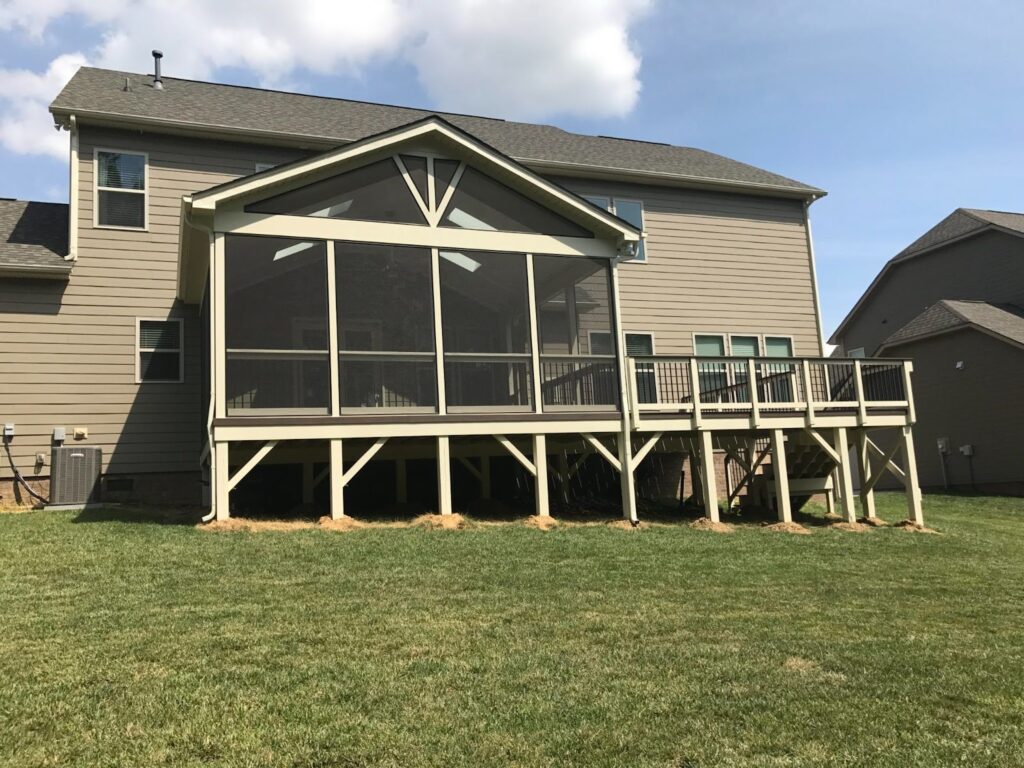 Before building, you need to consider the best location for the porch and be sure to ensure your foundation can support the extra weight.
Before contacting a contractor, have an idea of what you want – will you need to have your porch space wired for electricity for a bar with a mini fridge? If you want this you'll have to collaborate with a licensed electrician to make sure that it's up to code.
If you like to grill or sunbathe, pair your screen porch with an open-air deck. A half covered, partially screened-in deck for indoor dining and half uncovered is perfect for versatility of the space.
Composite decking materials reduce maintenance. No sanding, staining, or painting required. Choose lighter colors to keep the surface cooler to the touch in the warm months.
---
FAQs
"Can you build a screened-in porch on existing deck?"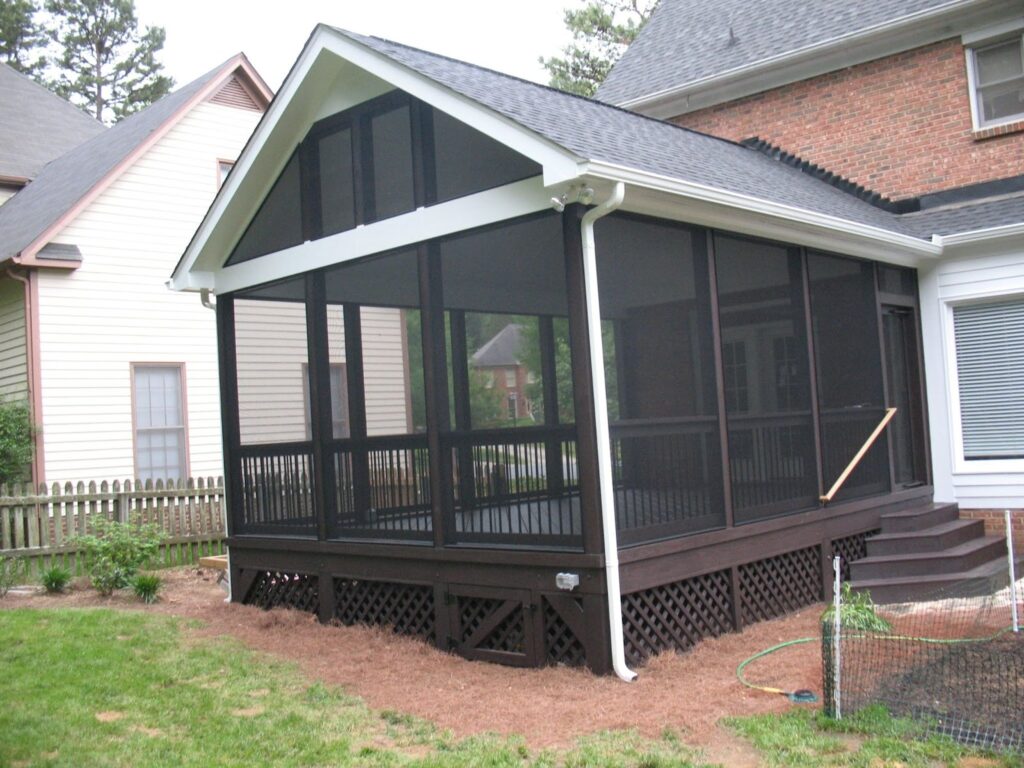 Yes, this is common!
We recommend building your deck with screened porch all at once, in order to stay within budget and avoid additional costs.
However, if you're not ready to pull the trigger yet on add-ons and would prefer to start with a basic deck and build more to it later, this is still absolutely achievable.
Are screened in decks worth it?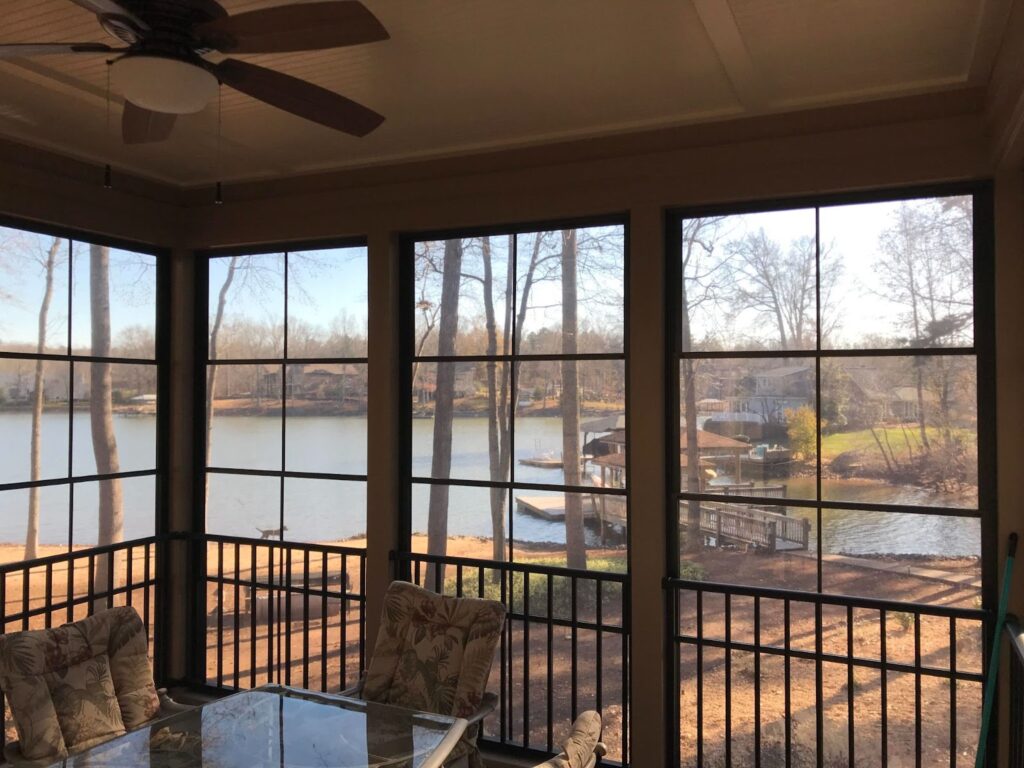 Every homeowner should know a deck with screened porch is worth the money invested, according to a study done by Archadeck:
"On average, you can expect about an 84% return on investment for a screened room addition. If your screened porch investment is $20,000, you will see an average return of $16,800"
You should customize your home the way that you like it. However, for those who want their ROI as high as possible, we actually condone keeping up with the Joneses. By noting what everyone else in your neighborhood is doing, and building comparably, you'll ensure that your house is awarded the maximum resale value.
How much does it cost to turn a deck into a screened-in porch?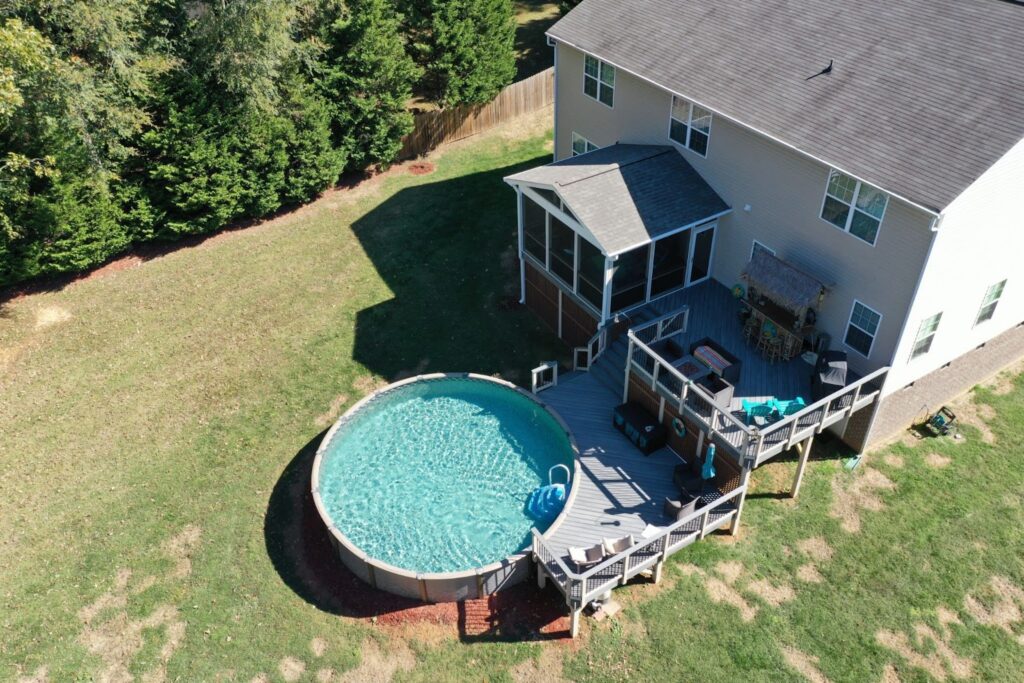 This can be a difficult question to answer as there are many factors that go into a conversion.
First you have to know if your current structure is to code and if it can support a roof load. It's also important to think through the age of the deck and if you want to invest in a large addition on an old structure or build it all new so it lasts as long as possible.
Next you want to consider what kind of materials you are going to use and how finished the porch will be. Are you wrapping everything in PVC? Is everything getting painted? Sanding and staining?
Then you will want to know what type of extra amenities you want. Recessed can lights, fans, speakers, TVs, outlets, screening system, Eze Breeze windows, fireplaces, and so much more can make the space your own, just at a cost.
And of course, in today's world, there are also the current commodity costs you have to take into account. All in all, you can get away with a budget porch add on in the right conditions for $35 to $55 a square foot, but it may have a rough finish.
An average conversion to a moderate to highly finished porch can get you in the $100 to $150 a square foot range. And of course there are the ultra unique options that can easily get in the $200+ a square foot range if you really want to make your porch the envy of the neighborhood.
All in all, there is a lot that can go into a porch conversion. Whether it be bringing a structure up to code or making the finish feel like an extension of your home and a qualified contractor can help you narrow down your options. For a free estimate contact us, we'll review your needs and come up with a plan for any budget.
---
Conclusion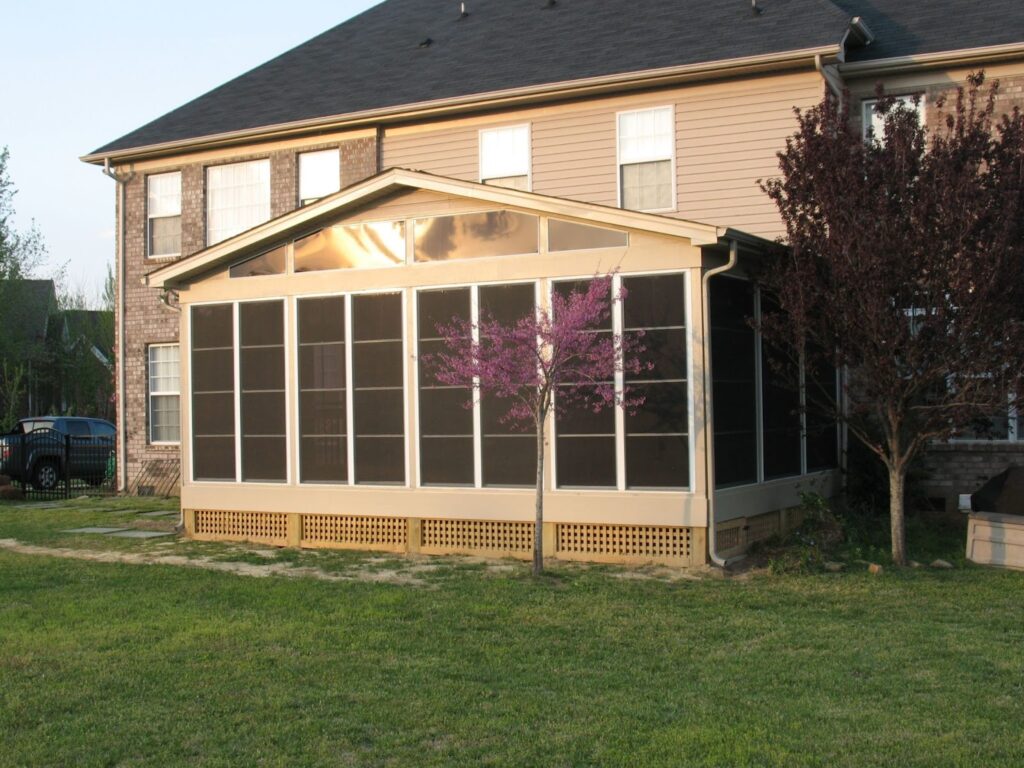 A deck with screened porch is a great idea whether you already have a deck or are starting from scratch. An inviting outdoor space for entertaining will completely change the way you spend your summers, and there are so many benefits like being free from hot sun, rain, and bugs.
If you are looking to overhaul your backyard lighting in Charlotte, North Carolina, A Deck Above can do the hard work for you. We are the premier deck builders in the Charlotte area.Get started with your dream deck today. Contact us with inquiries here and request a free estimate.