I know you want a straightforward answer when you ask "how much does a new deck cost". But it's built on a variety of factors which you have to consider when planning your new build. Some factors to consider are the size and height of the deck, decking material, railing material, and if you want steps off your deck.
The average cost of a new deck can range from $5,000-25,000 or more, and that's a pretty large gap. A standard wood deck will cost roughly $30-$40 per square foot while more custom or low maintenance decks can easily double that cost. For a standard 14' x 20' wood deck, you can expect to pay around $9,500 in today's market. Keep on reading to see the total guide for customizing and budgeting for your deck.
Types of Decking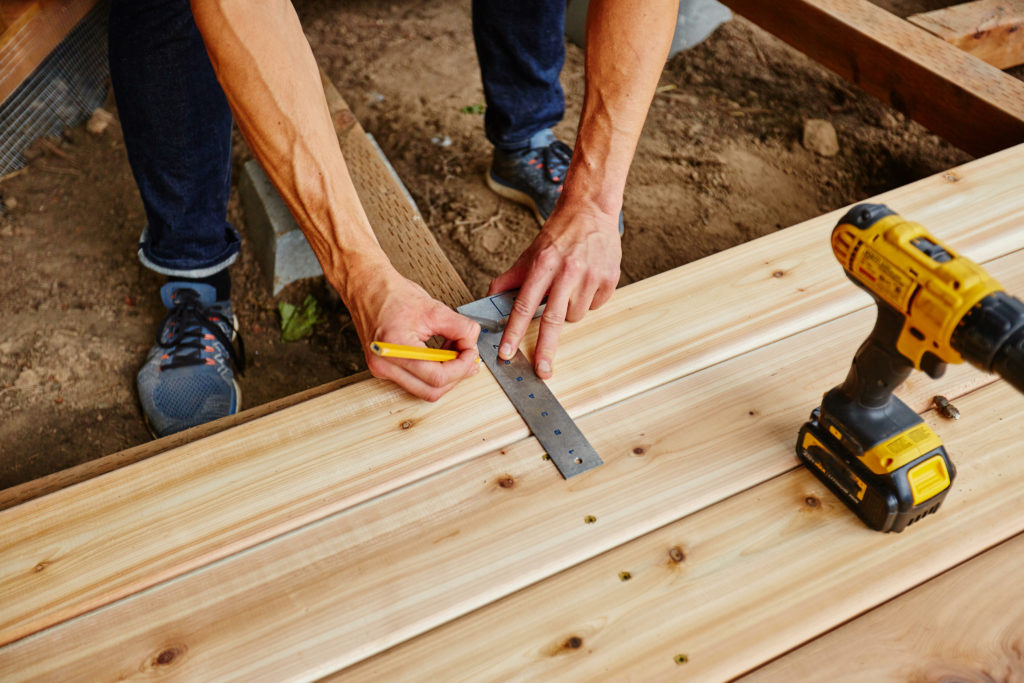 Wood
Wood, specifically treated southern yellow pine, is typically the go-to material that most homeowners decide to use. While a wood deck is beautiful, it requires a lot of upkeep. Wood decks need maintenance and to be sealed at least once a year to prevent rotting and splintering. In order to keep your deck going forever, you need to take care of it.
The type of wood also plays a huge role in price as well as durability. The cheapest wood planks cost $3-7 per square foot. The range in price comes down to the quality (or grade) of the wood and whether or not it is wet or dry lumber. Wet lumber is cheaper but you have to let it dry out before you can stain and seal it. Dry lumber is a little more expensive but you can seal it right away so it will hold up better in the long run.
Premium wood planks such as ipe wood or redwood can cost around $20 per square foot or more. With the right upkeep, premium wood decks can last up to 30 years. So while it is an expensive investment, they are reliable and stunning. Just take a look at this Ipe and Garap rooftop deck below we did a couple of years back.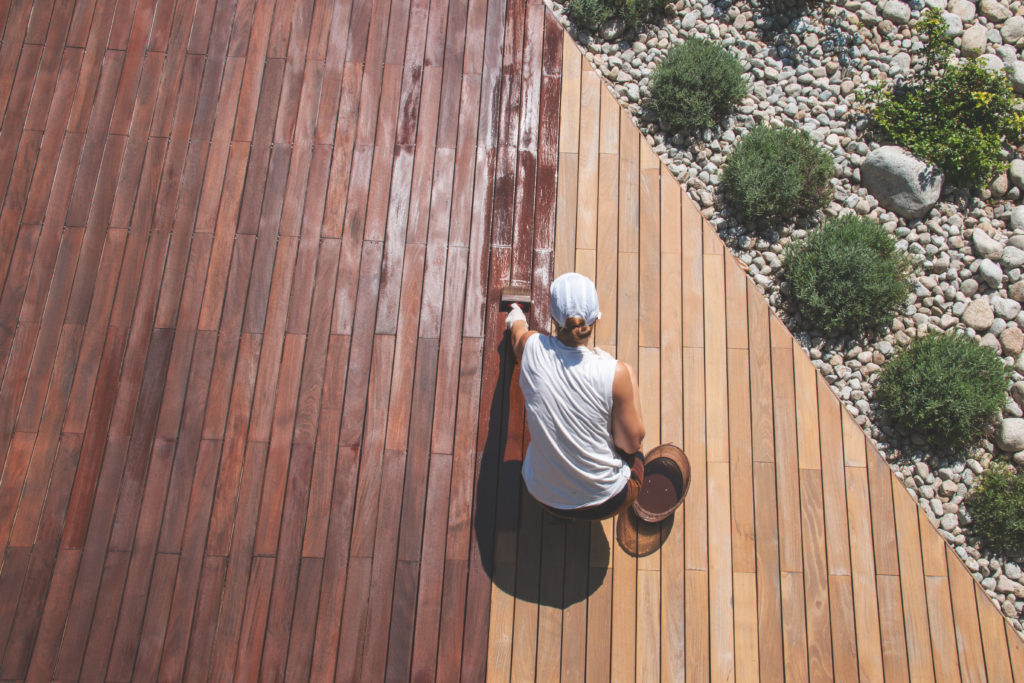 Composite
Composite decking is made out of recycled plastics and wood byproducts. Unlike wood, composite decking cannot rot or split. Composite also lasts 30+ years and requires minimal upkeep. Once your deck gets installed, it's ready to go-forever! When you ask about how much does a new deck cost, keep in mind more expensive materials can last a long time!
If you're particularly interested in being environmentally friendly in both your personal life and home renovations, composite decking is also very eco-friendly. Since composite decking recycles plastics and wood byproducts, some brands of composite decking, like Trex, are about 95% recycled. Also, since they don't rot or split, you will not only be saving money but also cutting down on resources to replace the deck and upkeep it.
So why doesn't everyone get composite decking? I know it sounds amazing, and you're right. But longevity comes with a price, and fully installed composite decking can cost between $55-$70 per square foot. The average 16 x 20 foot composite board deck costs around $20,000.
Vinyl & PVC
Some people love it, some people hate it- but vinyl is here to stay. Vinyl, or PVC decking, is a type of plastic which you probably already have somewhere in your house. Like composite decking, vinyl requires little to no maintenance. It requires no sealing, staining, painting, etc. However, unlike composite, the planks can expand and contract during the change of the seasons which means some fasteners may come loose. They also tend to stay cooler than composite deck boards. Azek, the leader in PVC decking, can even stay up to 30 degrees cooler than some competitive products.
PVC decking is typically a little more expensive than composite decking but ultimately comes down to the brand and quality. Fully installed PVC decking can range from $65-$80 per square foot.
Factors in How Much A New Deck Costs:
The size you want your deck to be determines how much it will really cost. If you want a huge deck, be ready to get a high estimate.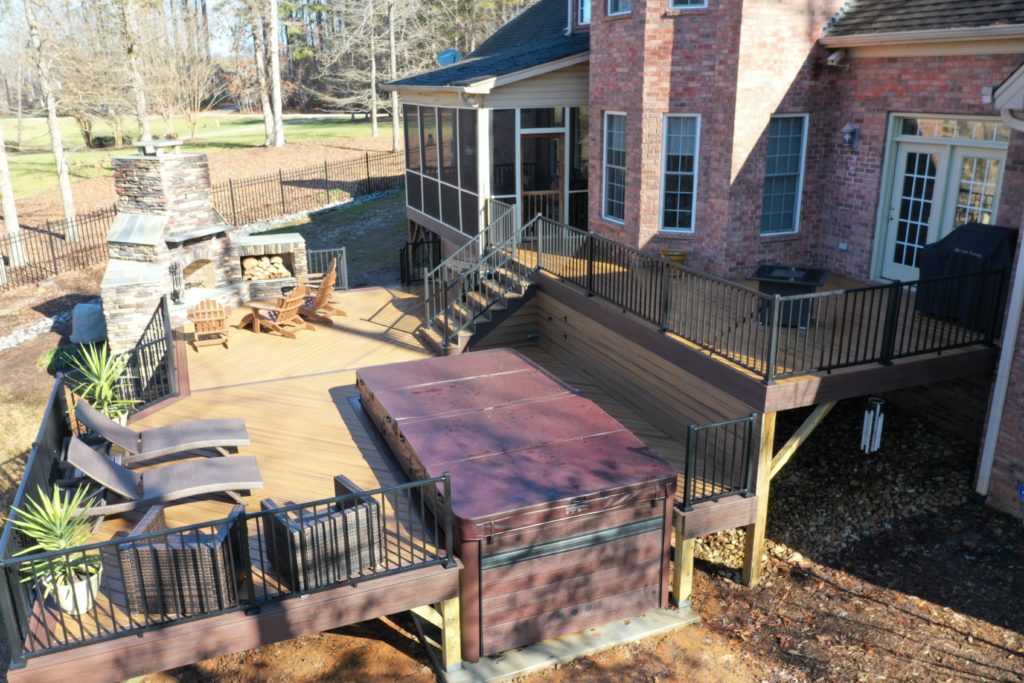 Some people want multi-level decks, in which case this would definitely ramp up the price. If you do a multi level deck the same size as a single level deck, it will cost more because you lose efficiency in your framing. However, the cost may be worth it if you like the look.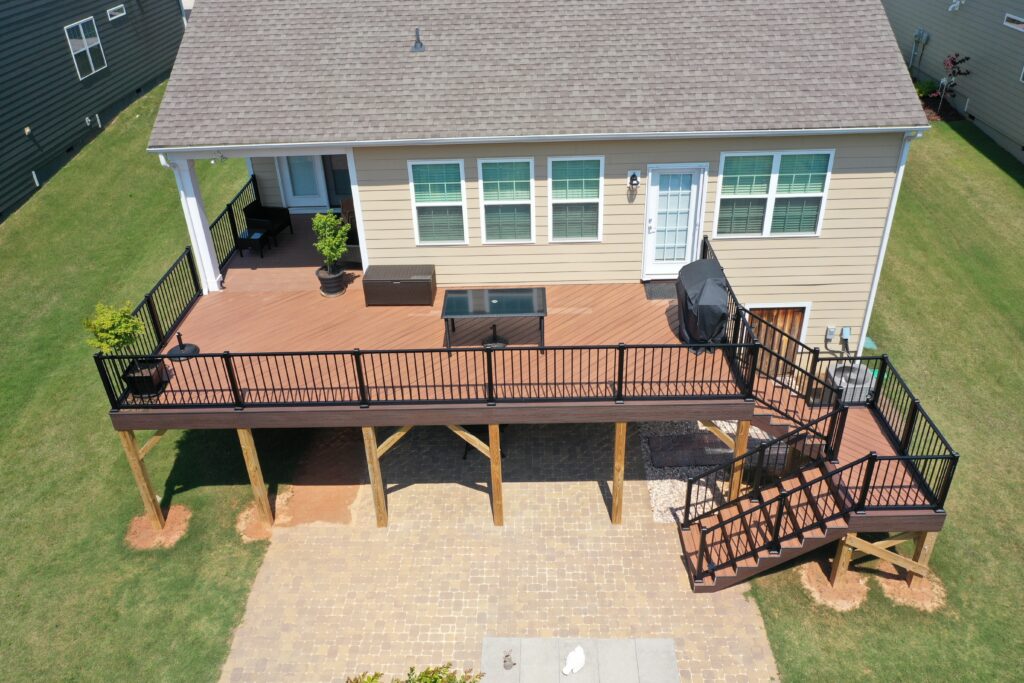 The higher up your deck will be, the more support material it needs. If you plan on just making a deck off the ground floor it typically is less costly than a second story deck.
The amount of levels in your deck or how high off the ground it is will determine the staircase situation. Additionally, some people enjoy stairs on either side of a deck, and multiple level decks will require multiple staircases which adds to the cost.
If you intend on replacing an existing deck, demolition will cost you some money. I don't recommend DIY-ing a deck, but you can demo it yourself to save some money. Just make sure you have the ability to get it to a landfill and that you don't damage your house or other outdoor living areas in the process.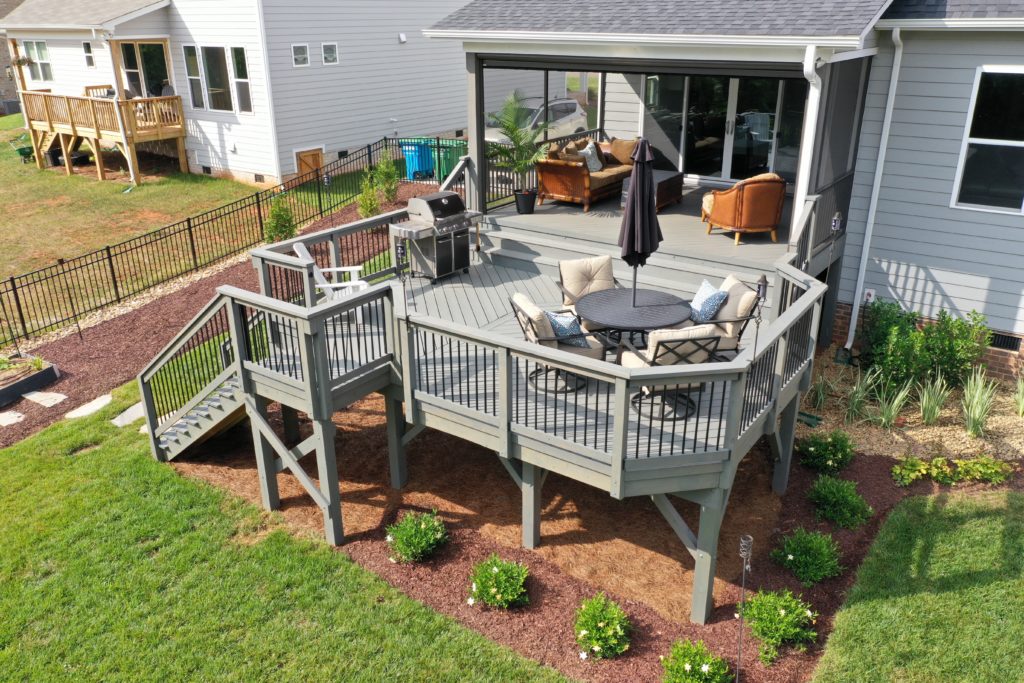 A curved deck will cost more than square or rectangular shaped decks.
Different types of foundations may be needed depending on the height of the deck, the frost line and the local codes. Additionally, a lot of newer subdivision build lots on back fill, which may require a soil engineer to approve footing requirements as that ground is not as stable.
Some people opt for the same material they used for the floor of the deck, such as wood, but your design could include other materials such as aluminum, composite, cable, glass, etc. Railings add some of the best visual elements to a deck, but they also tend to really up the cost too.
Extra Elements To Consider
Definitely consider how your deck will look in the evening. Built-in lighting can make your life easier than trying to do it on your own. Stair lights and post lights are super common built-in features, but alternatively you can consider adding lights on the outside of your house to save in your budget.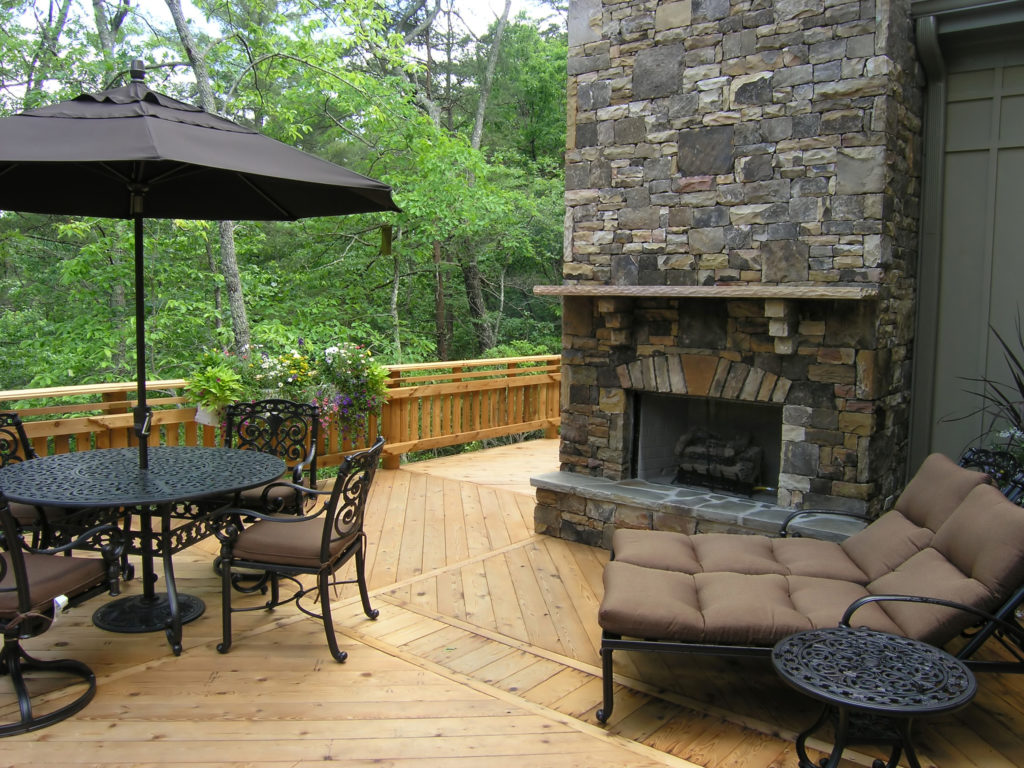 These are the items that add a little extra pizzazz to your deck. This can include a kitchen area, fireplaces, benches, and planter boxes. These are not essential but can help transform your space into your own style.
A covered area or pergola can allow you to relax on your deck in the shade and away from the elements.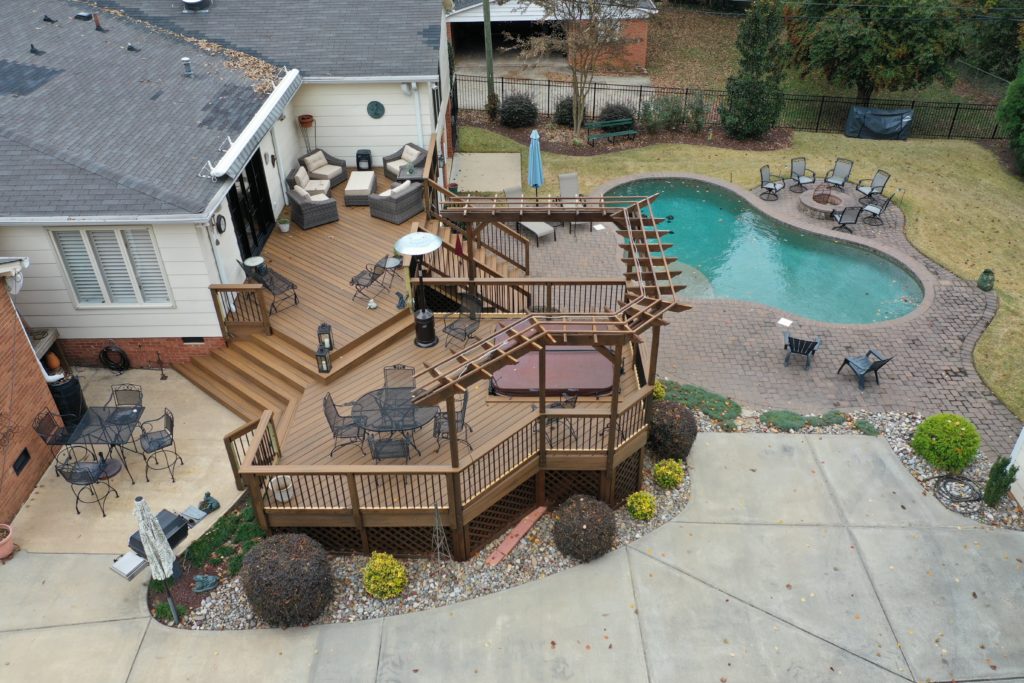 Do you intend on adding a hot tub to your deck later on? Maybe consult with your contractor on this one to make sure it's safe. The extra weight will typically require additional framing support to help it hold up all the extra weight.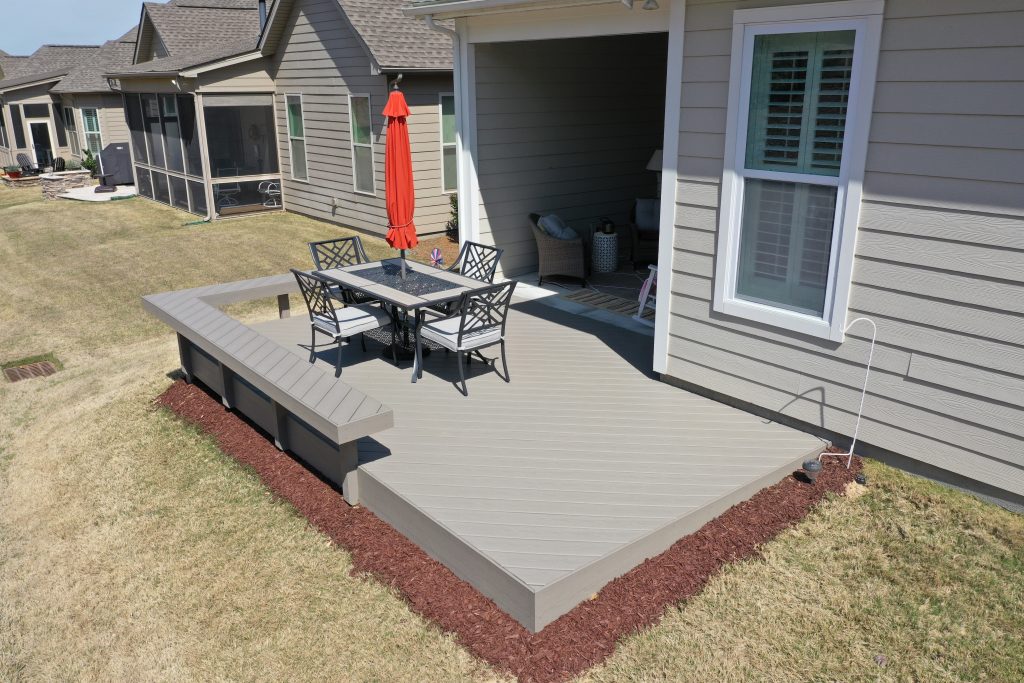 Exposed or covered, a lot of people use underneath their deck for storage. You might prefer skirting on your deck if you plan on storing things under your deck, for security and aesthetic purposes. Lattice or deck boards are common skirting materials that add a nice touch and keep under the deck hidden.
The Cost of a Contractor
If you are going the route of hiring a contractor to build your deck, there are a lot of costs that go into the project that they cover. Some you may encounter yourself, others are just their cost of doing business (like insurance). We put a few below here just to outline some of the costs that go into that side of the equation so you know why it costs more.
Contractors are typically required to carry a couple of types of insurance. This varies by state but two of the most common General Liability insurance and Workers Compensation insurance. These help to protect all parties in case there is injury or property damage
The dreaded word no one likes to hear, but it's unfortunately real. Everyone has to answer emails and phone calls, go on appointments, invoice and pay bills, property rent, etc. One factor that can help you see if this is larger or smaller for who you are talking to is advertising. Are you seeing TV commercials or hearing radio commercials weekly from that company? Someone is paying for those.
We all want everything to go smoothly, but there will always be bumps in the road. Your contractor will be dealing with at least a few suppliers to get your materials and have them delivered. If some of them are delivered damaged or aren't to the quality they desire, they will be taking time to get them swapped out or returned.
The quality of their relationship with those suppliers also can play a huge role in your project too. For example, at A Deck Above, our suppliers know we don't accept composite decking that isn't flawless. While another contractor may view it as acceptable to use a scratched board or hide it in a less noticeable location because they can't swap it out or don't want to take the time to do it, we have built relationships with our suppliers over decades so they make sure we get what you are paying for, or if not, swap it out so it's the quality you expect.
These are essential for almost all projects. They also take time and a knowledge of what each county, city, town, and state require. A lot fo the time they require drawings, zoning forms, and detailed building information.
One of the largest benefits a contractor can provide to you is coordinating your project. They can handle the project workflow for permits to take offs to scheduling delivery of materials and inspections.
You can learn more about project coordination and the process of designing and building a deck here so you can see more details on what a contractor can take off your plate.
The second largest cost just behind materials in most projects is the labor to build it. Especially skilled and experienced labor. This can be seen in a company's prior work photos and their reputation.
Essential Questions to Ask Before You Sign That Contract
Assuming you aren't going to weekend warrior your deck (or in most people's scenarios, month long weekend warrior) Here are a few other factors to think about and ask your contractor if they are including or can include.
When you ask "how much does a new deck cost, the first thing you will want to establish is if the price includes all the necessary building and zoning permits and that the contract is responsible for them. Every city, town, county, state is a little different, but in general the company or person who draws the permit is the one liable in case something goes wrong. If you are hiring a contractor and they want you to pull the permit, that's a big red flag. If something goes wrong, they are not liable, you are.
Another common question if you are doing a wood deck is does the quote include staining and/or finishing. Many deck companies do not include staining or sealing but typically have a painter they can recommend who does that work.
What type of lumber do you want? In addition to the type of decking, if you choose to get wood, make sure you know exactly what type of wood you want.
You also want to see if the contractor has any type of warranty. If you see a loose board next week, you want to be sure they will make it right. You're paying a lot of money, and customer service should be included in that price.
One Final Cost to Consider
We didn't specifically call out one of the biggest costs here, but we should mention it, and that cost is time. When you ask how much does a new deck cost, you may not take into factor that time is also worth money. Depending on the route you take, time can be a big component in your project.
If you build it yourself, that time can be the nights you spend planning your deck, coordinating to get the materials, making sure you get the right amount and size. It can also be the weekends you spend building the project. We have had many homeowners call us part way through a project because what they thought would take them a weekend is now over a month in time.
There is also the time it may take for you to hire a contractor as well as how far out that contractor is booked.
However, in our opinion, the most important factor in time is the time you will have to enjoy your new deck. If we build your deck, we want you to be able to enjoy it for decades to come with plenty of time to enjoy it, sharing evenings with friends, making memories with family, or enjoying a pleasant afternoon sitting and relaxing on your deck knowing that it was built to the highest standards with the best quality materials. If you are in the Charlotte, NC area we would be happy to talk to you more about your project. You can submit your info at our website, or feel free to browse previous projects to inspire you where you live in our photo gallery. Be sure to ask us "how much does a new deck cost" and we can give you an estimate!