If you're thinking about building a deck, you might be deciding between deck sizes. There are so many factors to consider to build a space that works for the size of your home and yard, as well as functioning for your family's needs.
Before you get started on what size deck you want to have, have a rough idea of what features you want your deck to have, what you want untouched in your yard, and what style matches your home the best. A builder can help with this if you have no idea, but if you're set on one idea or style be sure to pass that along upfront to your builder!
What's Considered a "Normal" Deck Size?
For most builds, decks are wider than they are deep, with the longer portion of the deck running alongside the house. The average size is between 200 and 400 square feet. Decks can also be multi-level which can be especially beneficial if you have limited yard space.
If you are thinking about having a multi-level deck, you can always build one level and add the other later. Just be sure to tell your builder so that they can plan out different phases to your deck and avoid extra costs to your build later on. If you're on a tight budget with big dreams, this could be a great route for you.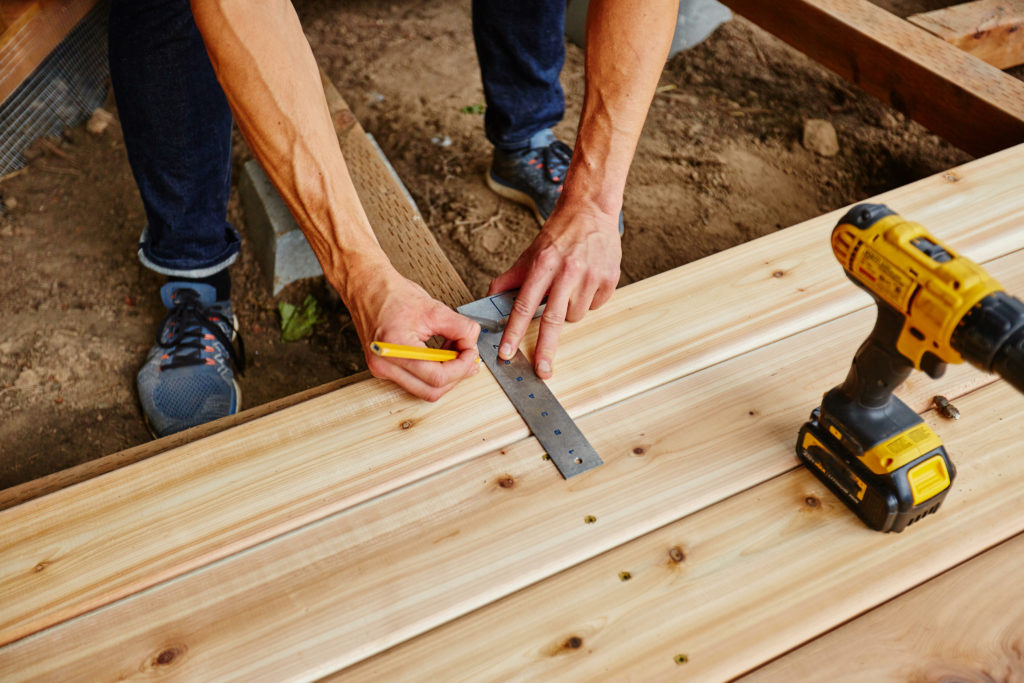 How Big Is Your House?
Most builders suggest that your deck should be no larger than 20 percent of the house's square footage. Another cardinal rule is to not build a deck that is larger than the largest room in your house. However, if you are going to use your deck for two spaces, such as an outdoor dining area and a seating area, you can go bigger. So if you're looking for an estimate of which deck sizes work for your home, just pull out a tape measure!
Of course, this is all about preference since this is your home and your deck! If you prefer to have less yard space or a huge outdoor space- live out your dream and build a huge deck. If you have no idea what deck size works for you, ask in a consultation with a builder! They have tons of experience with small to huge homes and small to huge decks. They'll be able to create a plan that is visually appealing and suits your needs.
Know Your Limits
While we want you to have the deck size of your dreams, we have to continue to be good neighbors. Most external projects require permits and you will definitely have to get one before you start building.
Also look into local building codes, regulations and restrictions. A common restriction is how close you can build towards your neighbor's home. You may be limited depending on if you have a well, septic tank, or drain field that are closer to your house. Your contractor should be able to help provide some insight into normal rules and regulations here as well.
Let Us Help with Your Outdoor Living Project
A Deck Above is the area's premier builder of decks and a wide variety of structures to maximize your enjoyment of outdoor living. 
Making It Seamless
The hardest part of choosing between deck size is finding a way to build a deck that doesn't overwhelm the size of your yard or the size of your house. You also might have some areas of your yard you want left untouched such as a flower bed or a pool.
When you consult with the builder, be sure to let them know about these limitations. To make your deck work with your yard they can use a variety of supplies to make it blend in and be more aesthetically pleasing. They can use pavers, stones, stairs, or other materials to keep your yard intact.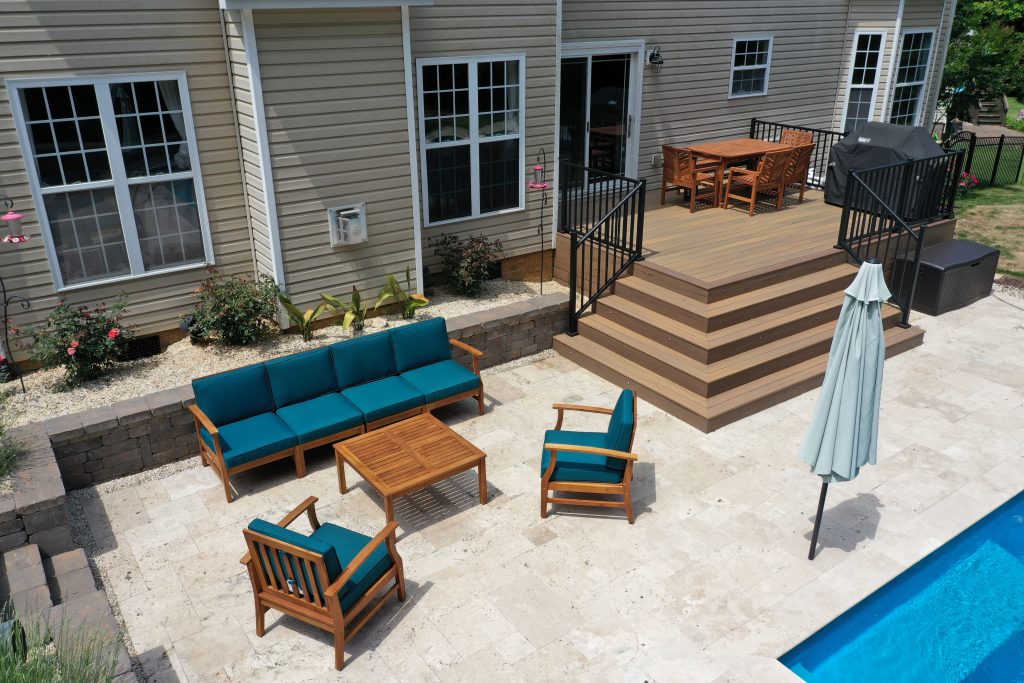 Know Your Lifestyle
If you're someone who always throws the family parties, you might need a bigger deck. Or if you want a secluded place to enjoy a morning cup of coffee, maybe a smaller, more private deck is for you.
There are a lot of factors to consider when you're in between deck sizes. The size of your deck depends greatly on how you plan to entertain. If you are only considering a small grilling area and patio set, the space needed to seat 4-6 people requires about 144 square feet. For 10-12 people, you'll want up to 288 square feet. However, if you want extra breathing room, we recommend at least 392 square feet. Consider these questions so that your builder has a real idea of what deck size will be functionable for you!
Do you have a grill and how big is it?
Do you want a deck with a built-in kitchen space?
Do you want a deck with built in seating?
What kind of events will you be hosting?
How many people will you often be accommodating?
Will your deck encapsulate a pool?
Will you be putting a hot tub on the deck?
Will you be adding additional outdoor living spaces in the future?
Is the deck going to connect to a patio or future paver patio? (Check out our guide for inspiration)
Do you want multiple levels?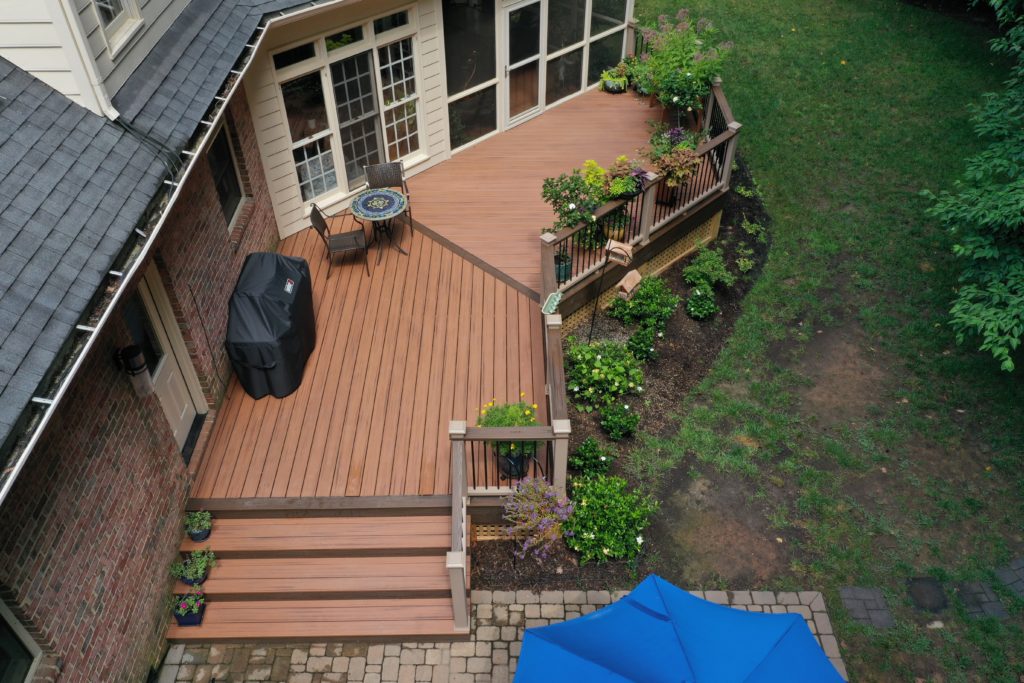 Shapes and Spaces
If you're sitting on a huge plot of land, you have a ton of range in what your deck looks like. But if you live in the city, have a smaller home, or have a smaller yard, we will have to be a little more creative with the space to make sure it really works for you.
Space is something your builder will consider, and another reason why their expertise is so valuable. Builders installing decks in cities especially have to be creative with their space and follow strict city codes. They may advise to either use straight lines for a crisp edge or curved lines to better use smaller spaces. They can also get creative with combining straight and curved lines as well as multiple levels. These custom plans can allow you to have the deck of your dreams, and one that guaranteed none of your neighbors have.