With the arrival of warmer weather, many homeowners are turning their attention to sprucing up their outdoor living spaces.
One way to make the most of your yard is by adding a covered patio or deck.
These features offer shade and protection from the elements of course.
But they also provide a stylish backdrop for entertaining guests or simply relaxing with family.
When it comes to covered patio and deck designs, there are countless options to choose from.
For those who want a more traditional look, wooden decks with pergolas or trellises can provide both shade and visual interest.
Alternatively, modern homes may benefit from sleek metal structures that offer clean lines and an industrial edge.
As for patios, there are plenty of materials available which can be used to create unique patterns and textures.
These include stone, brick, concrete and tile.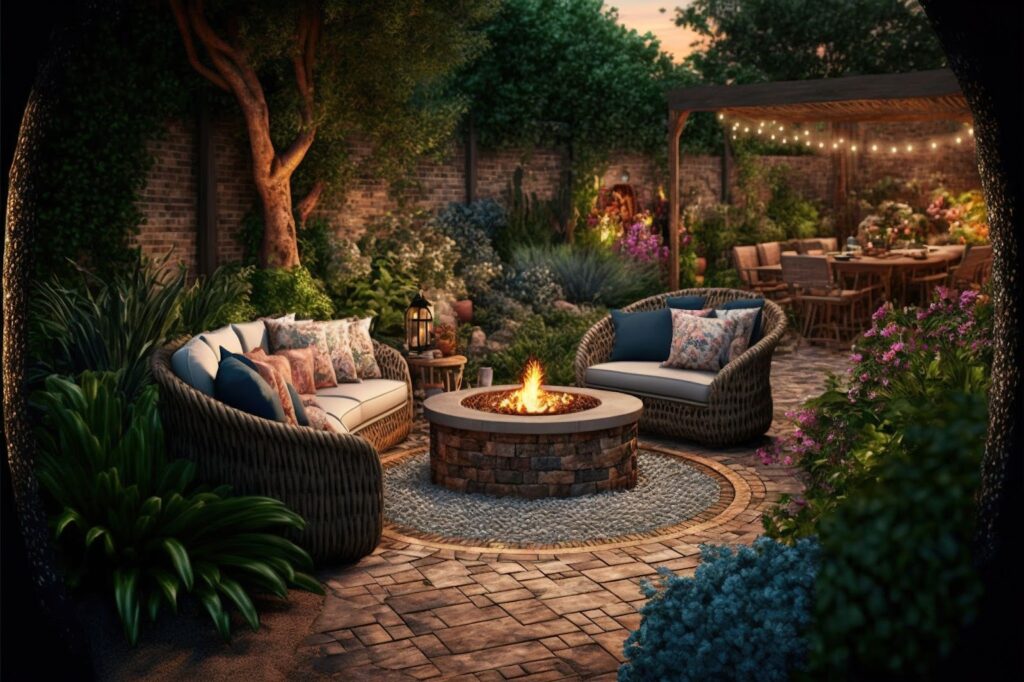 1. Natural Elements
Natural elements such as wood, stone, and plants add a touch of rustic charm to any outdoor space.
Whether you're designing a covered patio or deck, incorporating natural elements into your design is a great way to create an inviting and relaxing atmosphere.
When it comes to wood, consider using reclaimed or repurposed materials.
This gives your space a unique look and feel.
And it's also environmentally friendly.
Isn't that cool?
Cedar or redwood are great options for decks and patios because they're naturally resistant to decay and insects.
For a more modern look, consider using composite decking that mimics the look of natural wood without the maintenance.
Stone is another great option for outdoor spaces because it's durable and low-maintenance.
You can use natural stone pavers for your patio flooring or incorporate decorative rocks into your landscaping design.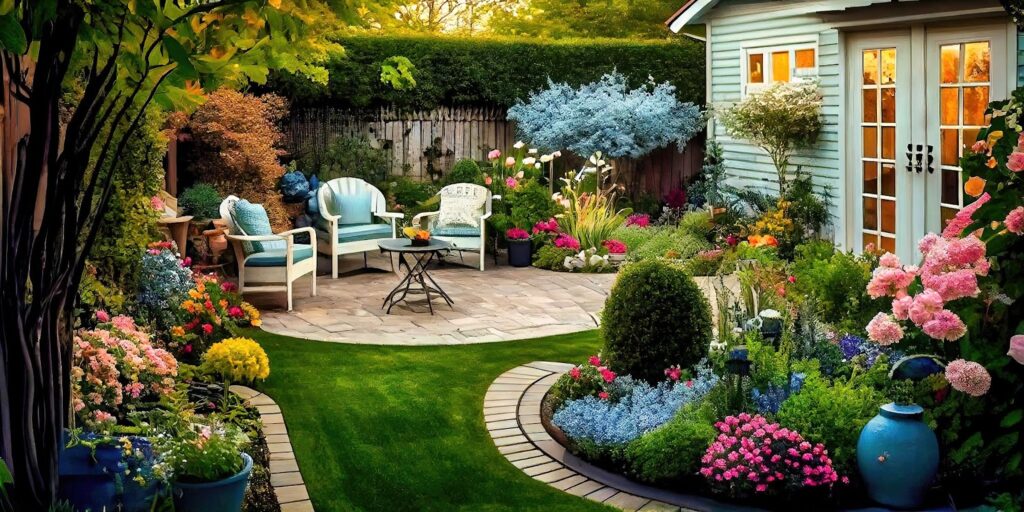 2. Cozy Seating Arrangements
When it comes to enjoying the great outdoors, there's nothing quite like having a cozy seating arrangement on your covered patio or deck.
Maybe you're looking to create a peaceful sanctuary for relaxing and reading.
Or maybe you want to entertain guests in style.
Either way, your outdoor living space can be transformed into an oasis of comfort and tranquility.
One great way to create a cozy seating area is by using plush cushions and pillows that are both comfortable and stylish.
You can also add an outdoor rug or carpet.
This will not only make the space feel more inviting but will also help define the area.
Another option is to incorporate natural elements such as plants or flowers into your design scheme.
Doing so will add color and texture while creating a sense of calmness and serenity.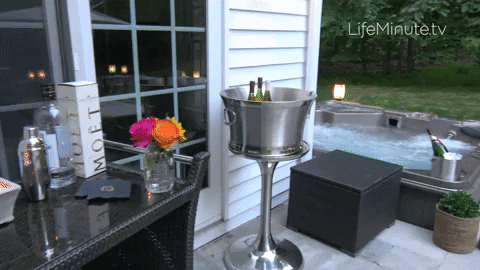 Let Us Help with Your Outdoor Living Project
A Deck Above is the area's premier builder of decks and a wide variety of structures to maximize your enjoyment of outdoor living. 
3. Outdoor Kitchens and Bars
Outdoor kitchens and bars are a popular trend that has gained popularity over the years.
They provide homeowners with the perfect opportunity to entertain guests while enjoying their outdoor living space.
Covered patio and deck designs are essential when it comes to creating an outdoor kitchen and bar.
This is because they protect the area from harsh weather conditions and make it usable all year round.
Covered patios offer a variety of options for designing your outdoor kitchen and bar.
You can choose between open or closed covers, depending on your preferences.
Open patios allow natural light in, while closed covers offer more protection from the elements.
A covered patio also provides ample space for seating areas, dining tables, and even a fireplace or fire pit for those cozy nights outdoors.
Deck designs are another great option for creating an outdoor kitchen and bar area.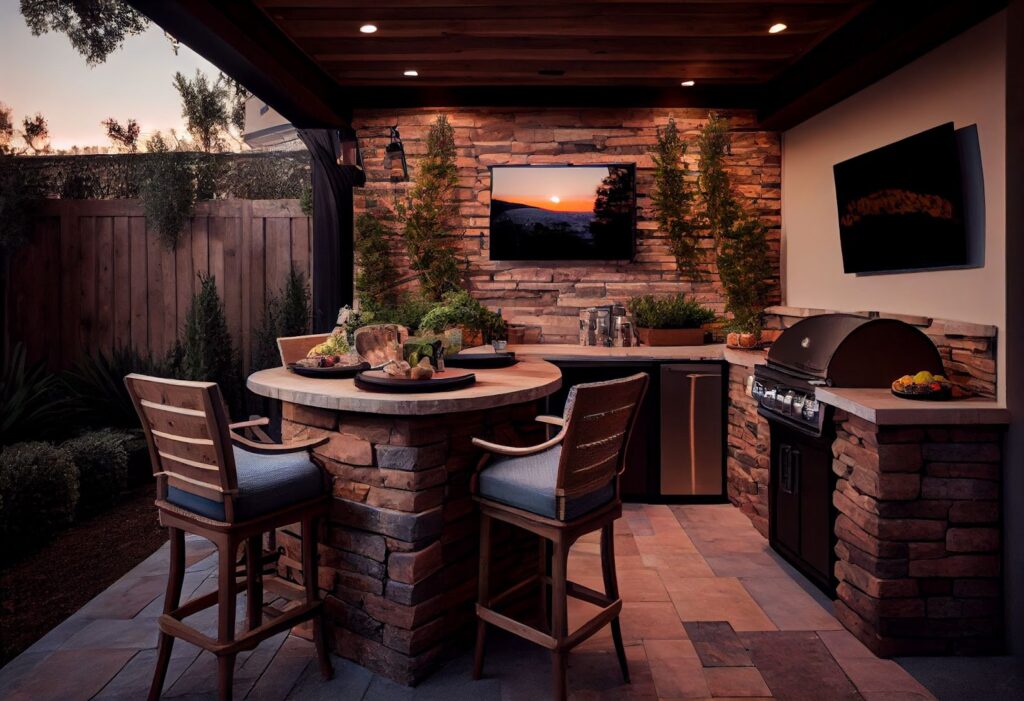 4. Lighting Options (string lights, torches)
When designing your covered patio or deck, lighting is an essential aspect to consider.
Not only does it provide a warm and inviting ambiance for you and your guests, but it also enhances the overall aesthetic appeal of your outdoor living space.
String lights are one of the most popular lighting options for patios and decks due to their versatility and affordability.
These decorative lights come in various sizes and shapes, from classic round bulbs to whimsical shapes like stars or hearts.
Additionally, they can be hung overhead or wrapped around railings to create a cozy atmosphere.
Another great option for outdoor lighting is torches.
While they may seem more suited for tropical-themed parties or beachside gatherings, torches can add a touch of elegance to any patio or deck design.
They provide soft illumination that casts shadows on surrounding objects.
And they do it while creating an intimate atmosphere ideal for late-night conversations with friends and family.
Beautiful!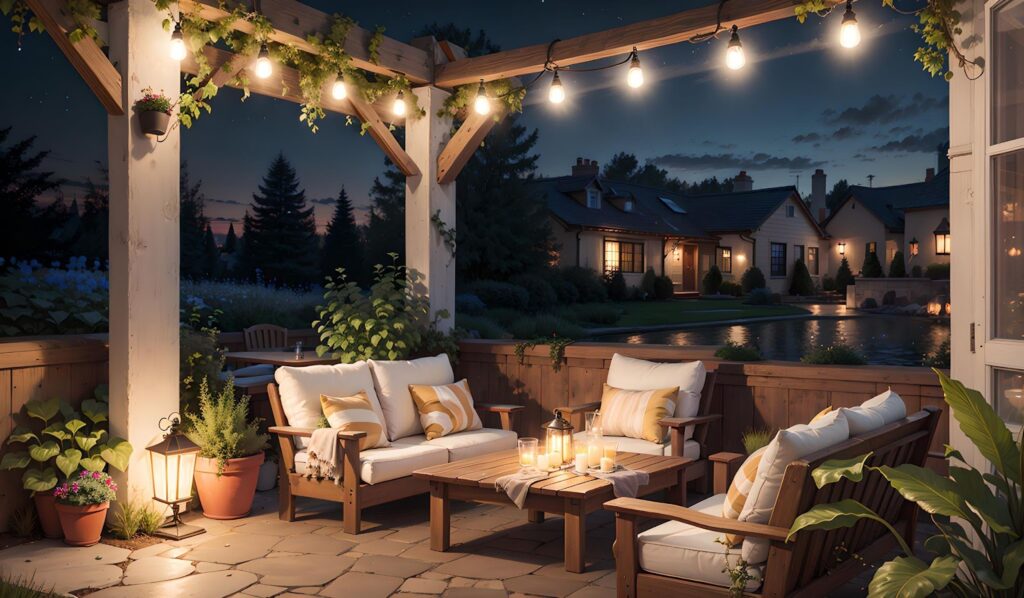 5. Incorporating Water Features
Water features are a great way to add a sense of tranquility and relaxation to your outdoor living space.
Incorporating water features into your covered patio or deck design can create a calming atmosphere.
And that's on top of providing soothing sounds that will enhance your outdoor experience.
When designing your covered patio or deck, consider incorporating a small fountain or pond as the centerpiece.
The sound of cascading water will create an atmosphere of serenity while adding visual interest to your space.
A well-placed fountain can also serve as a focal point for other design elements such as seating areas, planters, and lighting fixtures.
In addition to fountains and ponds, another popular option for incorporating water features is through the use of decorative water walls.
These elegant screens come in various sizes and shapes, from simple glass panels to intricate metal designs, making them perfect for any style of outdoor decor.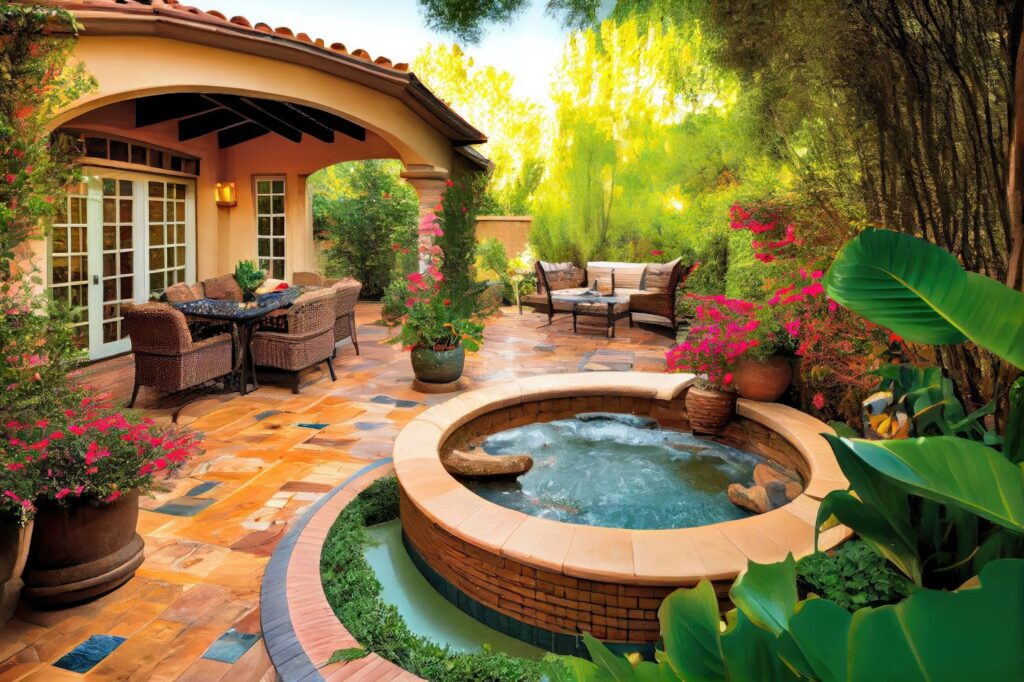 Benefits of Updating Patio/Deck Design
If you're looking to spruce up your outdoor living space, updating your patio deck design can provide numerous benefits.
A covered patio and deck design is an excellent way to create a shaded area where you can enjoy the outdoors while still being protected from the sun or rain.
A well-designed patio cover can also help extend your living space by creating a comfortable seating area that's perfect for entertaining guests or simply relaxing with family.
Another advantage of updating your patio deck design is that it can add value to your home.
Potential buyers are often attracted to homes with outdoor living spaces.
And a beautifully designed covered patio and deck can make your property stand out from others in the neighborhood.
Additionally, adding a new cover or repurposing an existing one gives you the opportunity to incorporate new materials and styles.
And that can give your outdoor area a fresh look that reflects current trends in home design.