A walkout basement deck is an excellent way to expand your living space and bring the outdoors in.
Maybe you're looking to create a cozy retreat or an impressive entertainment area.
Whatever your intention, there are many unique ideas that can transform your outdoor space into a comfortable and functional area.
In this article, we'll explore five unique walkout basement deck ideas that will help you make the most of your outdoor living space.
From incorporating built-in seating to adding shade and privacy features, these ideas will inspire you to create a beautiful and inviting deck that suits your style and needs.
So let's get started!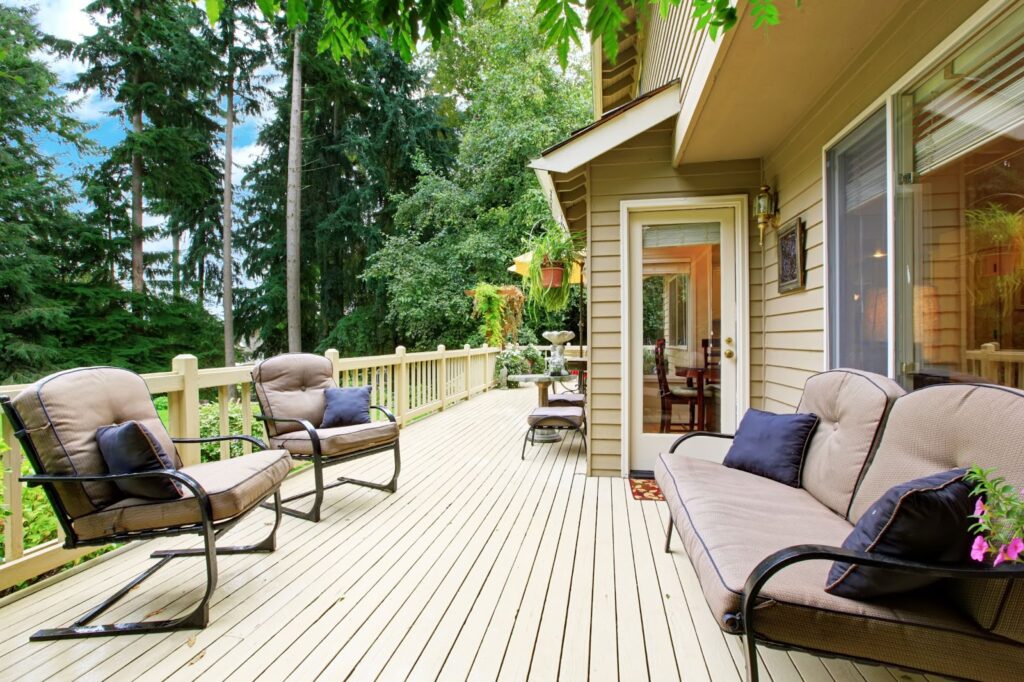 Setting the Scene
A walkout basement deck can be a wonderful addition to your home's exterior living space.
It can provide a comfortable and stylish place for you to relax, entertain guests or enjoy the beautiful outdoor views.
However, designing the perfect deck may seem like a daunting task.
This is especially the case if you're not sure where to start.
Luckily, there are plenty of creative ideas that can help inspire you and make the most out of your walkout basement's potential.
Here are some of ours: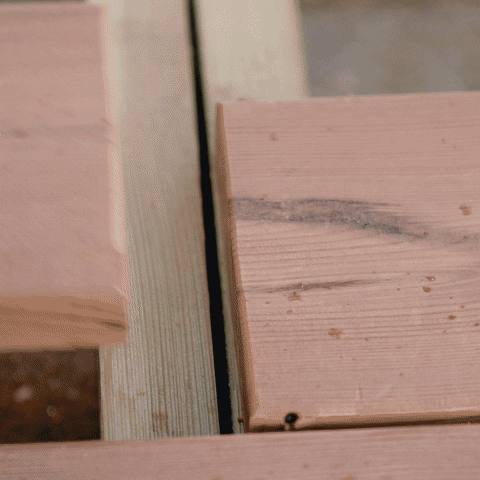 Idea 1: Outdoor Living Room
Looking to create a cozy outdoor living space for your home?
Look no further than your walkout basement deck!
All you need is a little creativity and some clever design choices.
You can transform this underutilized area into an inviting retreat that seamlessly blends indoor and outdoor living.
One way to maximize the functionality of your walkout basement deck is by creating designated zones within the space.
Consider dividing the area into separate seating and dining areas, or adding a comfortable lounge spot complete with plush cushions and throw pillows.
You can also add some greenery to the space by incorporating potted plants or installing raised garden beds along the perimeter of the deck.
Another key factor in creating an inviting outdoor living room is lighting.
Strategically placed string lights or lanterns can add ambiance to your walkout basement deck after dark.
And functional lighting like overhead fixtures or wall sconces can provide much-needed illumination for evening entertaining.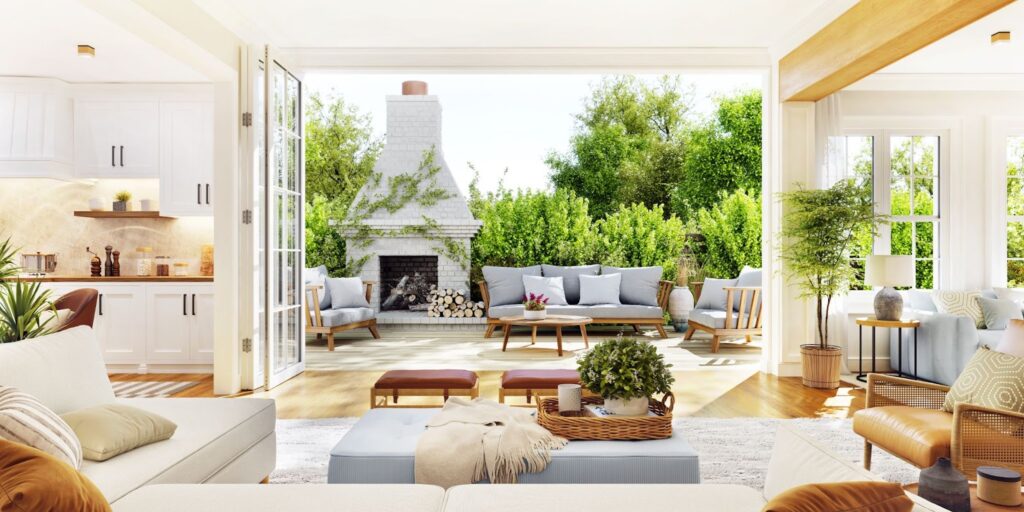 Let Us Help with Your Outdoor Living Project
A Deck Above is the area's premier builder of decks and a wide variety of structures to maximize your enjoyment of outdoor living. 
Idea 2: Garden Oasis
If you've been dreaming of a tranquil, outdoor living space, look no further than your own backyard.
A garden oasis can be just steps away from your walkout basement deck.
With a little creativity and some green thumb know-how, you can transform your outdoor space into an idyllic retreat.
Start by defining the area with borders or hardscaping elements like pavers or stones.
This will create a sense of structure and define the space as separate from the rest of the yard.
Add plenty of foliage to create privacy and shade.
Think tall shrubs or trees along the edges and hanging plants on trellises overhead.
Consider adding water features like fountains or ponds for soothing ambient noise.
Finally, add comfortable seating options to invite guests to relax and enjoy their surroundings.
Of course, if you're on a budget, you can just throw in some seating and potted plants.
No need to overcomplicate things.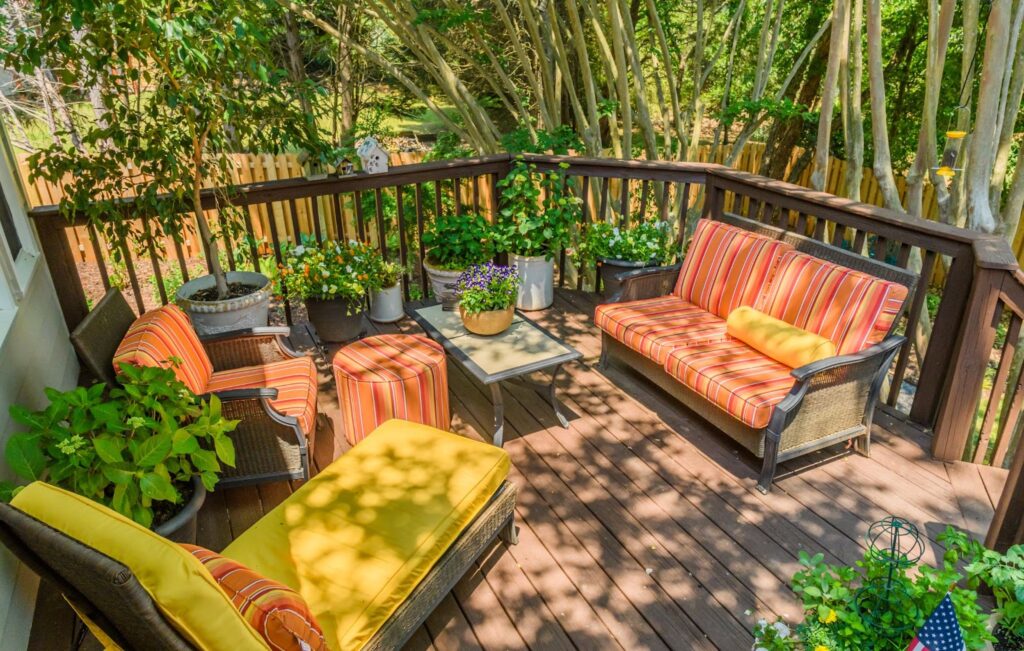 Idea 3: Built-In Fire Pit
If you're looking for something functional, a built-in fire pit could be the perfect addition to your outdoor space.
A fire pit is a great way to create an inviting and cozy atmosphere.
It provides warmth and light as well as a focal point for socializing.
There are many different styles of built-in fire pits to choose from, depending on your personal taste and the overall design of your home.
Some popular options include natural stone or brick designs that blend seamlessly with the surrounding landscape.
Other options feature sleek metal or concrete finishes for a more contemporary look.
In addition to being aesthetically pleasing, a built-in fire pit can also add value to your property.
By creating an outdoor living space that is both functional and stylish, you'll be increasing the appeal of your home for potential buyers down the road.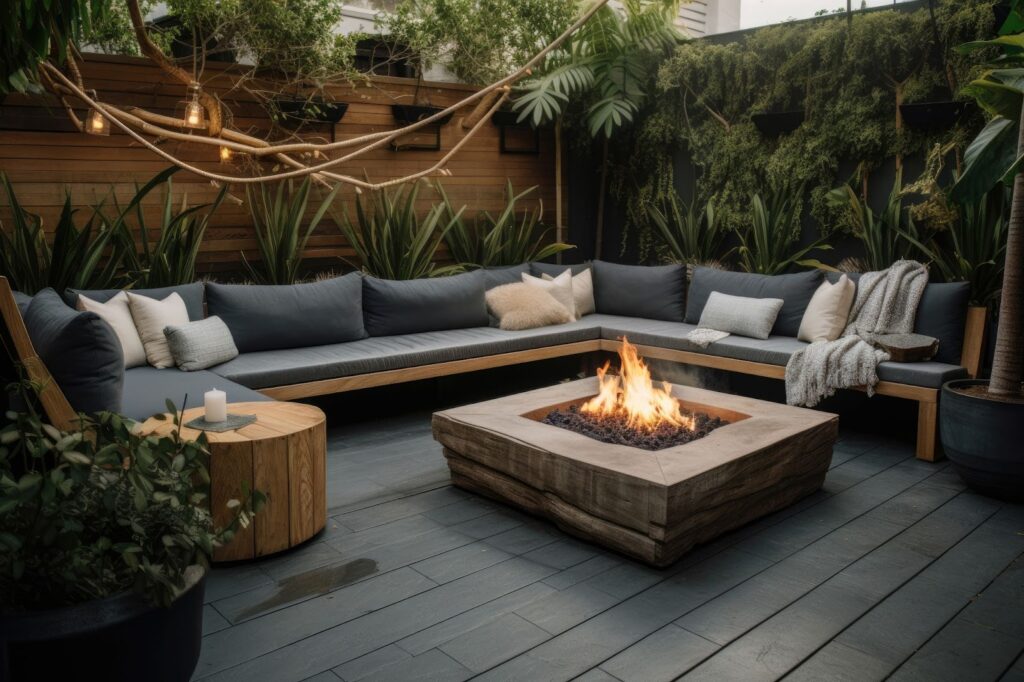 Idea 4: Under Deck Play Area
Make the most of our walkout basement deck.
If you have a walkout basement deck, chances are you're looking for ideas to make the most of the space underneath.
One creative solution is to create an under deck play area for children.
This provides a fun and safe place for kids to play.
And it also maximizes your outdoor living space.
To create an under deck play area, start by installing a waterproofing system on the underside of your deck.
This will prevent any water from seeping through and damaging your flooring or furniture.
Once that's done, consider adding some soft flooring such as rubber tiles or foam mats to cushion any falls.
You may also want to add some lighting so that kids can see what they're doing if they want to play after dark.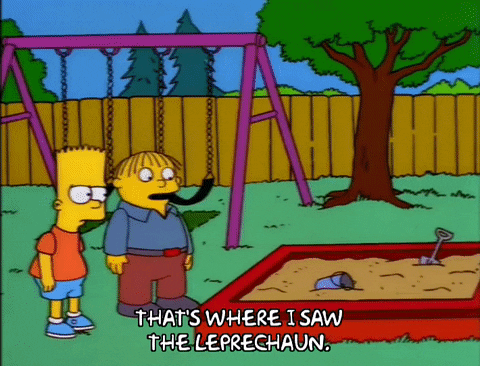 Idea 5: Elevated Dining Deck
If you have a walkout basement, one of the best ways to maximize your outdoor space is to build an elevated dining deck.
An elevated deck gives you a more usable space for entertaining and relaxing.
But it also offers spectacular views of your backyard and beyond.
When designing an elevated dining deck, it's important to consider factors like size, location, orientation, and materials.
You want to create a space that is functional, visually appealing, and durable enough to withstand the elements.
Depending on your budget and preferences, you can choose from a wide range of decking materials.
These materials include wood, composite decking or even concrete.
To make the most of your elevated dining deck experience, consider adding features like built-in seating areas or outdoor kitchenettes.
These amenities can help you make the most out of your outdoor living experience while enjoying some quality time with friends and family in comfort.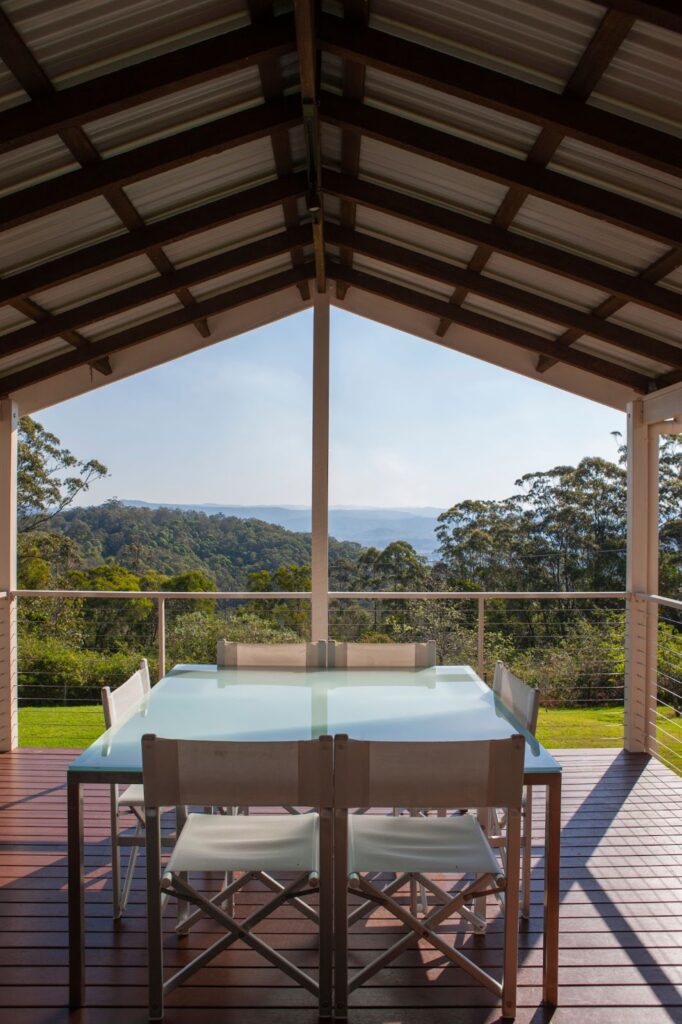 Make Your Walkout Basement Deck Great!
A walkout basement deck is a great way to add extra outdoor living space to your home.
Transforming your walkout basement deck into an enjoyable outdoor living space is a great way to add value to your home.
With the right design and materials, you can create a functional and beautiful area that you'll love spending time in with family and friends.
Don't hesitate to consult with professionals or do some research online for inspiration.
Remember to prioritize safety and comfort while still being creative with your design ideas.
So go ahead, start planning your dream walkout basement deck and enjoy all the benefits it has to offer!